A couple weeks back we posted a sneak peek of the v1.1 update to Meridian's zombie shooter with RPG elements Alive 4 Ever [App Store].   Late last night the update went live, brining a new level of carnage to iPhone gamers looking for action and gore.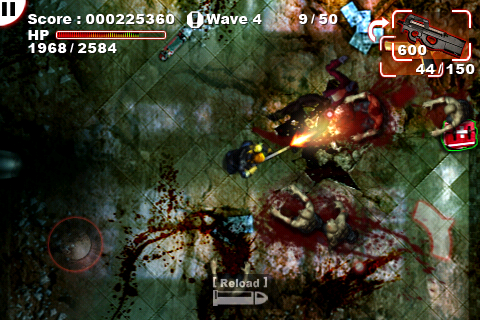 The developer lists the following features in this update:
Survival Battle (Single and Multiplayer) — Try to stay alive for as long as you can. You will be rewared a new weapon – Golden Desert Eagle – if you can stay alive for 10 minutes or more.
Horde Battle (Single and Multiplayer) — Slaughter wave after wave of zombies. You will be rewared a P90, M4 Super 90 and Golden AK-47 if you can clear wave 8, 16 and 24 respectively.
Powerful New Weapons — Altogether 5 new weapons, 4 can be unlocked in the Survival and Horde Battle; 1 can be bought in weapon shop.
Bonus Indicator — Bonus indicator has been added for scenes with challenge completed.
Dual-Stick Transparency Setting — Player can choose from 3 levels of transparency – None, Half and Full.
New ranking for Survival and Horde Battle
Profile name length increased to 8 characters
Reduced the detection area of Briefing Button
Bug fixes
Meridian provided us with the following trailer showing gameplay in the v1.1 release.
[ Full HD version | Low Bandwidth version ]
A planned v1.2 update will add Wi-Fi multiplayer gaming to the mix.  See our review of the initial release, posted in late August.
App Store Link: Alive 4 Ever, .99
Other Articles