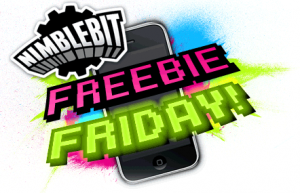 Freebie Fridays have been somewhat of a tradition over at NimbleBit, where they make one of their games free for a day to promote a new title or the rest of their lineup. In a somewhat unprecedented move, they've decided to make all of their games free for a day to promote their new project, App Classics, a web site that searches the App Store using various calculations in attempt to generate a list of the best and most popular apps available.
If you're unfamiliar with NimbleBit's collection of games, here is what's available for free that would have cost you a buck or two yesterday (and will tomorrow):
Bluebird – Play as a small bird trying to fly as far as possible. Eat bugs to regain energy and tap the screen to flap your wings
Hanoi Plus – A classic logic puzzle, move stacks of differently sized baskets to the opposite side of the screen stacked smallest to largest.
Moon Drop – Assist astronauts colonizing the moon. Tap and hold the screen to fire the thrusters of the lunar landers to help them land safely.
Scoops – Catch falling scoops of ice cream as high as you can while avoiding tomatoes and onions. Play long enough and you will be stacking ice cream past the planets of our solar system.
Sky Burger – Fill orders for burgers utilizing ingredients falling from the sky. Gameplay is similar to Scoops, but with objectives.
Textropolis – Search for words using the letters of various city names. With each word match the definition flies by and buildings are built on the top half of the screen.
US Accounts Only – Need a US account click here >>
Other Articles