A very simple app from Landlap currently on the App Store at $1.99 or £1.49 which allows you to send three types of birthday tune to someone in your phone book.  The App also allows you to write a little message which gets spoken to the recipient when the song has finished.
The three types of birthday songs are 'classic' 'Romantic' and of course 'techno'.
To be honest its quite a novel idea, especially if you are terrible at sending cards or you get a last minute update that its someone's birthday that day.  This way you will save on those high priced birthday cards as you can use it over and over again.
It would have been nice if it worked with the 'Bobble Head' app so you could send them a customised e-card with the birthday song.
At first it seems quite expensive for a very simple app but for those who want to make alot of use of it then you will benefit the most.
Looks:      Simple, basic and uninspiring
Controls: Just a couple of buttons and you are there.
Sounds:   3 types of tunes each with good quality sound
Overall:   Simple App that does exactly what it says on the tin.
I have added a video below from whatsoniphone.com as there is no point having multiple reviews on such a simple App
From the Developer: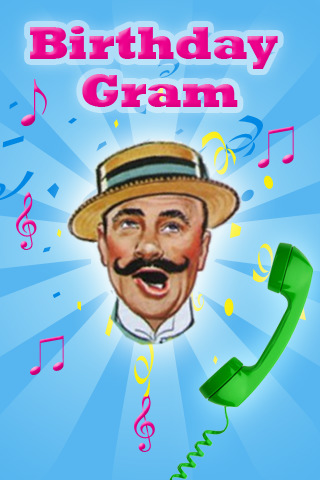 Show your special someone your really care by sending them a happy birthday song with Birthday Gram (TM). Birthday Gram, the birthday greeting of the future, sends a singing telegram over the phone.
FEATURES *
– 3 different birthday tunes to choose from: classic, romantic, and funky dance remix
– Next generation auto-dial technology: easily send to a contact from your address book or a number you key in
-Callback number id: ensures your friends and family will know whom to thank for their best birthday present ever–you!
– Money and time savings: don't buy greeting cards over and over, don't waste time shopping for presents. Just buy the Birthday Gram app once and send a song to each of your friends.
– Environmentally friendly: Greeting cards kill trees and our planet. No trees are harmed by Birthday Grams, because they don't require paper.
Cinco Certified Gold Sound Engineering: advanced remastering technology by Cinco ensures the highest audio quality.
– We take care of the music and give you all the credit!
PRO TIPS
– Remember, don't press and hold. Just tap the screen to instantly deliver a bundle of digital happiness to a lucky birthday boy or girl.Customize your greeting with a Cinco audio signature that appends your name to the end of the Birthday Gram.
Other Articles