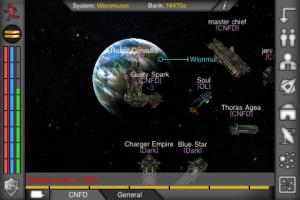 Towards the end of July this year touch arcade previewed a massive multiplayer online game set in space called Outer Empires [App Store] by Ironwill Studios. Aside from its new iPhone client, Outer Empires also works by pointing any modern browser to the game's web site at outer-empires.com.
The game is quite similar to a 2D version of EVE Online, and the game concept has remained the same since our preview:
Outer Empires takes place in a persistent galaxy where players can choose from a variety of different activities as you play in the intergalactic sandbox. There are tons of quests (or "Missions" as they're called in game) to complete that range from simple transport jobs to exploring and bounty hunting. Once you establish yourself in the world, you can set up colonies as well as run or join a guild (or "Factions" in Outer Empires).
There's a whole array of upgrades, ships, and other things to buy as you rank up in game. While the iPhone client costs .99, you can play the web version for free and neither version of the game has mandatory subscriptions. If you do choose to subscribe, you will get double the experience and space bucks of free users for completing the same missions. Subscription prices range from .99 a month with options for 3, 6, or 12 month discounts along with a .99 lifetime subscription.
Outer Empires is a cool concept, but like any online game how much fun you have with it will likely depend on the community inside of the game. I'd definitely at least give the free browser version of the game a try if the idea of a mobile space MMO interests you, and if you find yourself captivated by the Outer Empires universe, pick up the iPhone client.
Other Articles