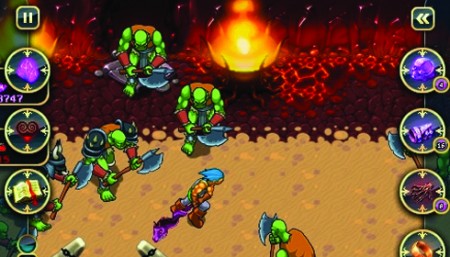 With the announcement of Square Enix's Chaos Rings recently, the iPhone will soon have what looks to be an RPG of epic proportions.
But wait, a new challenger enters the ring. Digital Chocolate has just released Fantasy Warrior Legends, its first free-to-play iPhone title.
Players take on the role of Rento, a warrior who must battle his way through orcs, skeletons, and other unsightly baddies to confront the Demon Lord and fulfil his destiny.
All the usual RPG gameplay suspects are there – kill enemies to level up, collect special items to aid you in your quest, crawl your way through dungeon upon dungeon. There are also gems to collect which greatly affect battle, and can be bought with real money – 400 gems per 99c – to speed things along.
Throw in online leaderboards via OpenFeint to top with your high scores and achievements to unlock, and it's sounding like a pretty far-from-little RPG package.
Fantasy Warrior Legends is free to download from the App Store now.
Other Articles