While we don't often post about hidden object or time management games, both genres have been quite popular on the App Store, perhaps because they perfectly target the highly coveted casual gamer demographic. There are hidden object games that will have you searching for things in every locale imaginable, and time management games that will leave the fate of hair salons, sandwich shops, and even factory farms in your hands.
Alawar's Gourmania [App Store] bridges both the time management and hidden object genres with a culinary themed Frankenstein monster scientifically engineered to be the ideal casual game.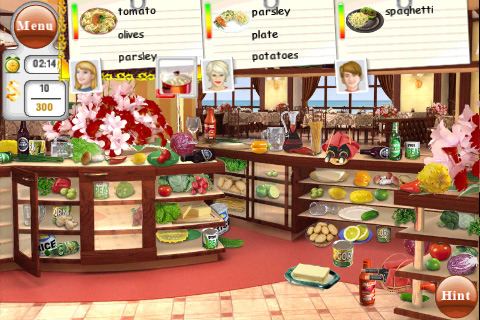 In Gourmania you play as a small-time chef with aspirations for greatness as you make your way through 8 different restaurants that make up the 60 levels in the game. Like most time management games, the goal is to keep your customers happy while turning a profit.
The gameplay twist in Gourmania is that the different items required to meet the time management goals aren't clearly laid out. Instead, you must search for them. This is easier said than done as the kitchens you work with in Gourmania consist of food haphazardly strewn about all over shelves, counters, and even on the floor.
While you're working in the kitchen, orders will come in along the top of the screen that list certain ingredients that must be located. Once you've found all the ingredients of the order, you tap the order card at the top of the screen to prepare the food and collect your money. If you can't find an item you're looking for, the standard pinching and swiping gestures work to zoom in as well as pan around. If you're really stuck, there's a hint button that will lead you in the right direction.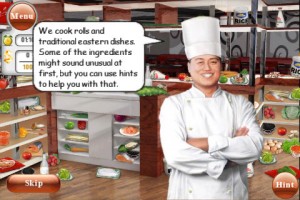 The money you earn can be used to upgrade appliances which will increase your cooking performance. There are also various bonuses in game such as having all three orders cooking at once, or completing order combos. Once you've made it out of the early levels of the game, you experience the same time crunches found in other time management games. This is fun, but can be a little frustrating at first especially as you initially try to find objects that aren't as obvious as red tomato or bright green lettuce. Thankfully, the hint system helps out a ton and it doesn't take long to learn what the more ambiguous items look like.
The orders in Gourmania appear to be completely random, and sometime result in some pretty ridiculous combinations such as hot dogs with mayo or pizzas with lettuce. Despite the odd tastes of the diners in Gourmania, I've had a great time playing the game. Alawar seems to have succeeded in bringing out the strengths of both the time management and hidden object genres, and there's even a lite version available to try.
App Store Links: Gourmania, 99¢ – Gourmania Lite, Free
Other Articles