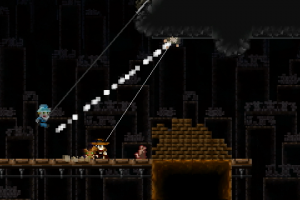 One of our very favorite iPhone games — one that we come back to and actually play "for fun" (perish the thought!) — is Rocketcat Games' Hook Champ [App Store], which we reviewed back in October.  We discussed the game in detail with Rocketcat's own Kepa Auwae in TouchArcade Podcast #9. He gave us a look at what went into the making of the title and assured us that Rocketcat intends to keep the game very much alive down the road, with updates and enhancements.
Fans of the title will be pleased to hear that the first update since our discussion with Kepa (and the third update to the game since its release) has just hit the App Store.
Features as listed by the developer:
New challenge level set: The Forbidden Hats! Put your hooking skills to the test like never before!
New 'simple' ghost mode allows you to gauge your progress when racing a friend or competing against your own best time without being distracted by the in-game avatar.
New cosmetic-only DLC character: Bounty Hunter Zelle! Zelle is equal to Gunny in abilities, but has her own sense of style and new dialog. Zelle also features her own collection of incredibly fashionable hats!
Change: Rope lengths tweaked to create a smoother experience for beginning players.
Bugfix: Personal best run ghosts now saved even if ghost display is turned off.
Bugfix: The Addiction hat achievements and Celebrity local scores achievements should be properly awarded now.
Performance: Stunning performance enhancements across the board on both older model iPhone/iPod Touch devices and newer 3GS models!
Even more hats!
What's more, Rocketcat tells us that Update 4 should be available around the end of this month and will feature a number of new, more causal levels featuring John Gore of Minigore, who will shoot his enemies Bionic Commando-style. A new "Duel System" will also appear in the next update.
Have a look at the game in action. (Video is prior to Update 3)
[ Full HD version | Low Bandwidth version ]
As we said in our review, Hook Champ is an absolutely fantastic game that all fans of retro styled sidescrollers should own. If you've not added this one to your game library as yet, now's the perfect time. At least give the free, lite version [App Store] a swing.
And hats off to Rocketcat Games for keeping this one going strong.
App Store Link: Hook Champ, .99
Other Articles