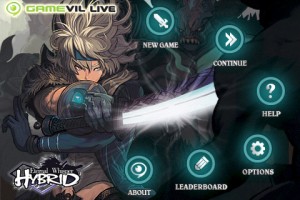 Gamevil's latest epic RPG got its own lite version today, Hybrid: Eternal Whisper Free [App Store] offers a brief look at the world of Hybrid through three included battle stages where you will be able to master nine different fighting skills.
Hybrid is an adventure roleplaying game with an extensive skill system all wrapped around a brawler-style fighting game. You play as Grey, a kid with a mysterious past protected by an equally mysterious guardian named Fairy through a quest that will take you numerous hours to complete that touches on a number of RPG cliches along the way.
With every enemy you kill, you gain experience points and in-game currency which can be spent on an impressively deep character customization and upgrade system. The combat is the star of the show in Hybrid, and as you fight through each level you eventually gain more moves, techniques, and magical attacks to dispatch your enemies. These attacks can be chained together to form massive combos, and fighting entire gangs of baddies at once can be fairly satisfying.
Like Zenonia, there are a lot of people who love Hybrid, there's a thread on our forums filled with fans of the game. I do appreciate all the work Gamevil has put in to the game, and as you level up and gain more abilities, watching Grey fly around the screen killing enemies is fairly spectacular.
Where the game fell short for me, however, was in the seemingly endless amount of button mashing and thumb swiping required to kill all the enemies on a level only to watch a cut scene with tons of dialog, then get back to mashing the attack button. Regardless, I still recommend trying the free version, because opinions on this game seem divided, and you could find yourself amongst those who can't get enough of Hybrid.
Other Articles