After a dramatic two month wait, the first Minigore [App Store] update was approved this afternoon. Mountain Sheep originally intended on doing episodic content updates similar to Pocket God, but unforeseen issues with Apple's approval process resulted in these updates being rolled out much slower than originally anticipated.
Minigore is a dual stick survival shooter similar to iDracula loaded with fantastic music, a charming cartoon-like art style, and random voice-over commentary from the game's protagonist, John Gore. In the game, you mow down armies of furries with your machine gun for as long as you can stay alive.
Minigore 1.1 brings a number of changes to the table, including the integration of OpenFeint for online scoring. You also have a furry "radar" of sorts, as incoming furries are indicated by small icons bordering the screen showing which direction they're coming from. The game also saves your progress when you quit, and restores your game when you load it again.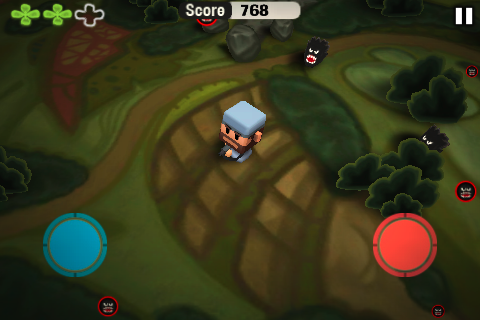 Aside from the standard flaming furry, a giant flaming furry was also added along with some new sound effects, voice acting, and animations. John Gore's health was also increased, and he can take one more hit before dying.
While this update introduces a hefty helping of gameplay tweaks and bug fixes, it also introduced two substantial bugs. Forum members are reporting that if you flip the screen orientation in the options, the game will crash and the only thing you can do to fix it is reinstall the game. Also, if you don't enable OpenFeint when it first offers, you will need to reinstall the game to get the prompt again.
Mountain Sheep has had ambitious plans for the future of Minigore, and recently added another 99 players to their beta testing pool. It's hard to have worse luck than they've already had with being able to get these updates out the door, so hopefully future updates to the game will have fewer problems making their way through Apple and getting on to the App Store.
App Store Link: Minigore, 0.99
Other Articles