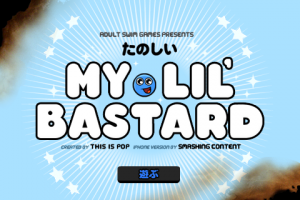 Last week we posted a preview of Adult Swim's My Lil' Bastard [App Store] and mentioned a release date of the 23rd. Sure enough, it's the 23rd, and My Lil' Bastard is ready to be abused on your iPhone.
My Lil' Bastard is a virtual pet game with an Adult Swim spin on it. This isn't your everyday Tamogotchi that just wanders around eating and sleeping, your lil' bastard has quite an attitude and seems to really take a liking to destroying the toys you get it and burning its cardboard box down. You eventually toilet train your lil' bastard, and even send it instant messages once you get it a computer… Assuming you don't kill it before then.
Like other Adult Swim games, the flash version of My Lil' Bastard can be played for free online. The iPhone port of the game is remarkably similar, with the only major difference being using your finger instead of a mouse. Here are the first few minutes of the flash version:
If you like virtual pet games, but found ngmoco's Touch Pets Dogs [Free] to be a little too cute for your tastes, My Lil' Bastard might be right up your alley. Try the flash version first, if you find yourself enjoying your flash lil' bastard, you'll have just as much fun on your iPhone.
App Store Link: My Lil' Bastard, .99
Other Articles