In what will likely be the first of many Gameloft games released this month, Driver [App Store] appeared out of nowhere this evening. Originally previewed at the Gameloft press event in Paris a few weeks ago, Driver is a nearly complete port of the 1999 PC and Playstation game with only very minor omissions. (Notably the original's extensive instant replay editing system.) The graphics have been revamped, the interface has been completely re-worked to be finger-friendly, but otherwise the game is the same as the original.
In Driver, you play as an underground NYPD detective who was chosen by the force for his impressive driving skills to infiltrate the filthy underbelly of four in-game cities. You will be tasked with a series of missions that will have you racing around the city, evading the police, and generally doing most of the things you do in Grand Theft Auto games without the ability to ever get out of your car.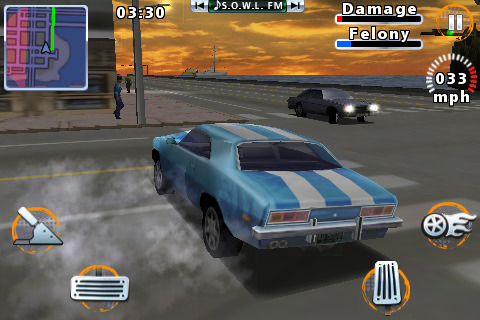 The final version of the game available on the App Store seems absolutely identical to what we saw in Paris. If you've grown tired of the snack-sized game experiences that seem so widespread on the App Store (Not that that's a bad thing, those are some of my favorite games.) then Driver is just what the doctor ordered.
Driver is a complete game with four massive real-world cities to drive through, and multiple endings. The original game was very well received, and aside from improvements to the graphics and tweaks to the interface, the iPhone port seems even better than the game I remember spending so much time with in the late 90's.
I have to commend Gameloft for the great job they've done with this game, and I think I speak for iPhone gamers everywhere when I say I hope Gameloft continues to port more of these classic video games. If you like objective-based driving games, running from the cops, and getting air– Look no further than Driver.
App Store Link: Driver, .99
Other Articles