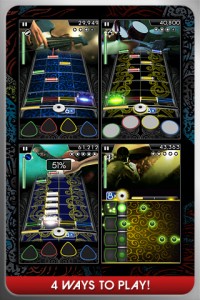 Rhythm games have been a part of gamer culture since Bemani popularized them outside of Japan with Dance Dance Revolution in the late 90's. Since then, the core game concept of DDR has varied widely from things as obscure as shaking maracas in Samba de Amigo on the Dreamcast to emulating a full band in EA's newly released Rock Band on the iPhone.
Rock Band allows gamers to choose from playing the guitar, bass guitar, drums, and even singingwhile rocking out to a particular song. In console versions, you use plastic guitar, drum kit, and microphone. On the iPhone and iPod Touch, each of these instruments are played by tapping four areas on the screen to match up with the musical notes coming down the screen.
We extensively previewed the game, and preferred it to the other available rhythm games:
Where Rock Band pulls ahead of the pack of rhythm games on the iPhone is when it comes to overall immersion while you're playing the songs.

Obviously there's only so much immersion that you can achieve when you're pretending to play a guitar by tapping on the screen of your iPhone, but playing the tracks in the iPhone Rock Band works just like its console big brother in that every note you miss causes the music to be interrupted. This seems to add so much more to the game than just tapping along to a song like other similar games on the platform with music that just keeps playing regardless of how poorly you're doing.
Rock Band for the iPhone comes loaded with 20 songs, and additional songs can be purchased in game in packs of two for 99¢. This is not only cheaper than buying the songs themselves from iTunes, but also significantly cheaper than buying them inside of any other iteration of Rock Band.
Also included is four player local bluetooth multiplayer, achievements, Facebook connectivity, and along with both single song game modes and a "World Tour" career mode. Keep in mind, because of the in-game DLC, Rock Band requires the 3.0 OS.
The iPhone version of Rock Band does a great job at emulating some of the feel of the console original, and thanks to the four distinct playable tracks in each song, the game also offers an experience not found in competing games on the App Store. With the cheapest DLC to be found in the Rock Band series, the iPhone version will be hard for fans to pass up. The main complaints relating to veterans of Rock Band finding the iPhone version to be too easy, along with the somewhat expected complaint regarding the track selection.
Other Articles