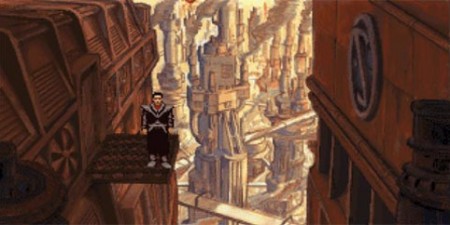 Originally released for the Amiga and DOS in 1994, Beneath a Steel Sky is a sprawling graphical adventure set in Australia in a dystopian future. The story goes like this: the protagonist, Robert, crashed in the Outback as a child and was raised by a group of natives. After growing into an adult, storm-troopers sent from Union City by its all-powerful computer, LINC, kidnap Robert and kill his tribe. After entering the city dome, the helicopter transporting him crashes and he escapes into the city with his robot companion, Joey. Robert's mission is to find out why he was wanted and what to do next.
The game, which is notable for its excellent illustrations, drawn by famed comic artist Dave Gibbons, received very high praise at the time of its release and is widely considered to be one of the best adventure games ever created.  PC Gamer gave it 91% and called it "a must-buy for all serious adventure fans."  CU Amiga gave it 95%, calling it "one of the greatest adventures ever," while Simon Byron of The One gave it a 93%, saying, "I could sum this game in one word: Superb."
The iPhone adaptation, which has been ported to the ScummVM engine, uses touchscreen controls and dispenses with the on-screen pointer typical of Scumm games and, instead, uses blue dots to highlight points of interest.  The game's artwork has been enhanced with the iPhone release, which also features a high quality soundtrack and a new, integrated hint system.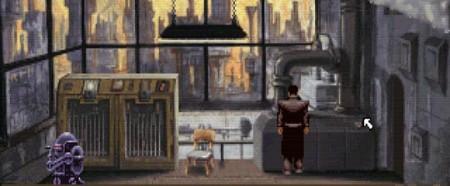 See a video of the original version to get a feel for the game.
See the original game's five-minute intro video here.  Those wanting to try before they buy can have a look at the 2003 shareware release, playable on most major platforms.
App Store Link: Beneath a Steel Sky, $4.99
from: touch arcade
Other Articles