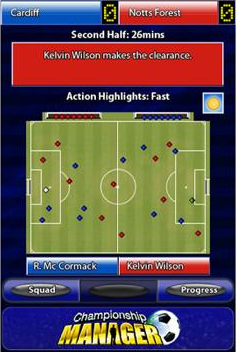 Eidos Interactive and Dynamo Games have combined again to create Championship Manager 2010 for iPhone, which is out now on the App Store.
Last season's effort, Championship Manager 2009, didn't live up to most people's expectations – largely because it was a conversion of the Symbian release.
As any football manager will tell you when taking on a new job, progress often requires a complete rebuild of the team.
Dynamo has adopted just such a philosophy for the 2010 edition, creating a bespoke iPhone footy management experience. As such, the games had a total revamp, with an improved 2D match engine and detailed press conferences.
You'll also be able to play alongside real-life managers in CM Season Live, though it appears you'll need a copy of the CM 2010 PC game to make use of this online functionality.
We've also been assured that update packs will be released throughout the season to reflect real-world player movements.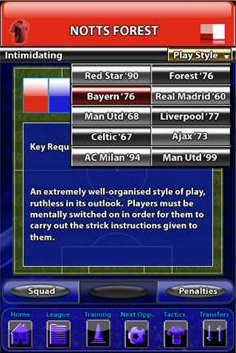 Championship Manager 2010 Questions
What is Championship Manager 2010 and how does it work on iPhone?
Championship Manager 2010 is a popular football (soccer) management simulation game that was released for the iPhone in 2009. The game allows players to take on the role of a football manager and build and manage their own team, competing in various leagues and tournaments.
How much does Championship Manager 2010 cost on the iPhone App Store?
Championship Manager 2010 is no longer available on the App Store for download and purchase. It is possible that the game may still be available on other platforms or through other means.
Can I play Championship Manager 2010 offline on my iPhone?
Yes, once the game has been downloaded and installed on your iPhone, you can play it offline without an internet connection.
What leagues and teams are included in Championship Manager 2010 on iPhone?
Championship Manager 2010 includes a variety of real-world football leagues and teams from around the world, including the English Premier League, Spanish La Liga, Italian Serie A, and German Bundesliga, among others.
How does the match simulation work in Championship Manager 2010 on iPhone?
When a match is being played in Championship Manager 2010, the game uses a 2D graphical interface to display the action. Players can make tactical adjustments and substitutions during the match to try to gain an advantage over their opponent.
Can I save my progress in Championship Manager 2010 and continue playing later?
Yes, Championship Manager 2010 allows players to save their progress and continue playing at a later time. You can save your game at any point during play and pick up where you left off at a later time.
Are there any in-app purchases or microtransactions in Championship Manager 2010 on iPhone?
As of my knowledge cutoff date of September 2021, Championship Manager 2010 did not have any in-app purchases or microtransactions. The game was a one-time purchase.
How do I sign players and manage my team in Championship Manager 2010 on iPhone?
In Championship Manager 2010, players can sign new players and manage their team through a variety of menus and screens. You can view player statistics, negotiate transfers and contracts, and set tactics and formations for your team.
What kind of feedback has Championship Manager 2010 received from players and critics?
Championship Manager 2010 received generally positive reviews from players and critics, with many praising the game's depth, realism, and addictive gameplay. However, some reviewers noted that the game's interface and graphics could be improved.
Is Championship Manager 2010 still worth playing on iPhone today?
While the game is no longer available for download on the App Store, some players may still find value in playing Championship Manager 2010 if they are able to obtain a copy. The game may appeal to fans of football management simulation games who are looking for a nostalgic experience or who want to try a classic title from the genre's early days.
Other Articles