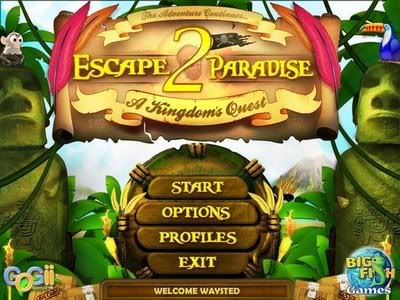 I-play has officially announced that its popular (5 million players and counting) PC casual puzzler Paradise Quest is on its way to iPhone.
As you might expect given the title and publisher, Paradise Quest plays a lot like Jewel Quest, with some familiar gentle match-three gameplay mixed into a loose adventure story. However, there are a few notable twists on display that mark it out as one to watch.
For one thing, play isn't constrained to a single screen. Each level is a sprawling field of flowers and materials that must be scrolled across (by matching blocks in the appropriate direction) in order to complete each task.
There'll also be a string of gesture-activated bonus moves, such as the shake-induced earthquake, as well as a strong focus on social play. Besides Facebook high-score connectivity the game will feature a number of multiplayer challenges, playable over wi-fi and Bluetooth.
We spent some time with the game recently, so keep an eye out for our initial impressions. Paradise Quest is set to be released some time in January, though we'll let you know as soon as we hear anything more specific.
Other Articles