Last year we reported on an upcoming multi-player update to the iPhone card game Durak. The promised update has finally arrived and delivers a number of new multi-player features.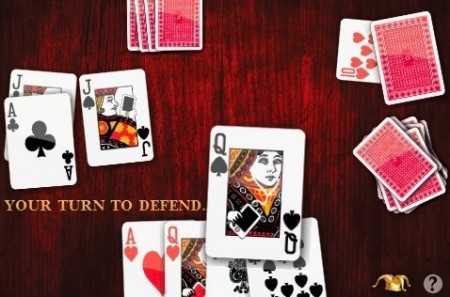 Durak is a popular Russian card game typically played between two to six people (two to four in the iPhone version). Each player receives six cards and the objective is to get rid of all your cards. The game is a trump-card based game where players take turns being on the attack. Attacking involves placed a card down face up. The defending player must place a card of higher value with the same suit or a trump card. Attacks can continue if you have additional cards in your hand whose face values that match any of the cards in play. If the defender can't defend, then they must take all the cards into their own hand. If the defender does successfully defend the attacks, all the cards get swept into the "graveyard" and remain out of play. The goal is to get rid of all your cards.
We described the iPhone implementation of Durak to be "top-notch" and the only real criticism we had was the lack of any sort of online multiplayer. A list of new features include:
More difficult single player
Online multiplayer (3G and Wi-Fi)
Bluetooth multiplayer
Chat
Buddy lists
Push notifications
Nudge notifications
Profiles
Private games
Local and global leader-boards
If you already own Durak, now's your chance to upgrade to try out the online features, or buy it if it interests you.
App Store Link: Durak, .99
Other Articles