In the world of card games, there are many that pit one team of two players against another and if you know anything about card games, you know how intense a single game of Euchre can be. The game can seem a bit overwhelming for people who are just getting into a new card game as you're trying to figure out when is the best time to present the card that you hope will win the trick, but once you get into the game, it rewards you with tons of fun.
Fortunately, from beginner to an expert, you can get your share of fun if you know where to look and although players vary in the mastery of the game, one thing is for sure – everyone loves the social aspect of it. To make your job a bit easier, we bring you a couple of tips and tricks on picking the right mobile euchre card game for you.
But before we start, it's only fair you get a list to choose from. We found a neat list of the current best Euchre games on the market you can check out.
Top 10 Euchre Card Games
With the list and our tips, you can be sure you'll start playing in no time without getting lost or even worse, discouraged to play and ending up deleting the game the second after you download.
Euchre 101 for Beginners
Naturally, the best way to start is by providing basic info on this oldy but goldy card game. Euchre is all about predicting what your opponent might play next. Since explaining the entire game would take too much time, if you're a complete beginner, you might want to download one that comes with an easy-to-follow tutorial. Most of the games today come with a basic introduction so even if you're a complete beginner, you can easily get a hang of it. This can save you a lot of time and ensure you don't feel overwhelmed when you start.
Euchre comes with many unique terms like "trump card" or "bower" that you should master before you consider playing but don't let the "complex terminology" confuse you. Understanding the terminology and basic rules is the foundation for coming up with a strategy that will always keep you one step in front of your opponent. It's almost like playing chess – you want to think in advance and predict what might happen one or even two moves in advance.
Finally, if you feel tutorial might not be enough, you'll be glad to hear that some of the mobile games come with in-game tips and tricks that will teach you as you play. It's basically as if you're having a professional tutor as you play. And what's better than that?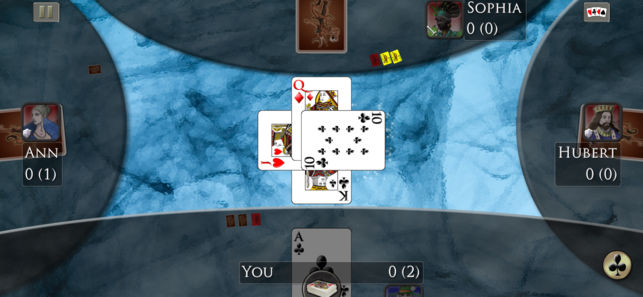 Discover Different Play Styles & Game Modes
Since the game has been around for quite some time now (since the 19th century to be precise), it's no wonder players developed different play styles on top of the basic Euchre rules. Fortunately, different game modes don't vary in difficulty as much as they vary simply in making the game more dynamic. If you and your buddies get bored with classic Euchre, you can always switch to 5 Handed Euchre or Trickster for example. The beauty of it is that once you understand the basic, you can customize the game as you see fit to make sure you get the most out of the experience.
When it comes to mobile versions of the game, although you might not have plenty of customizing freedom, they do come with most popular game modes where you can either find people to play with online or simply invite a friend and play together. Euchre is a game meant to be played together and skipping the social part can strip you from a great amount of entertainment. We mean, everything is always more fun when you play with friends, right?
Join Tournaments for Real Challenge
With Euchre being such a popular game, it's no wonder you can find a tournament on every corner. They mostly differentiate in size and difficulty, but both beginners and expert can test their skills by finding the right tournament. When it comes to mobile game tournaments, this is especially easy since you can check what level of challenge the tournament is offering.
If you're a veteran of the game, many online tournaments take a serious turn that feels like a full-blown professional tournament. But you still have the freedom to make the game your own and play as you want no matter if it's taking the challenge solo or teaming up with a fellow Euchre player. Keep in mind not every game allows you to team up for tournaments, so always make sure you check if the game is offering what you're looking for.
Tournaments can spam from 6 players to even 46 players and once you hit the big league, you'll have the perfect chance to test out everything you learned so far.
Conclusion
And here you go. If you're even remotely interested in card games, we hope our tips and tricks will help you pick the best mobile version of Euchre for you. Now all that's left is you take a look at what games are currently on the market, pick one and take it for a test ride.
If you have any more tips you feel would contribute, feel free to let us know so we can update our tips. Thanks for reading and good luck with your future games.
Other Articles