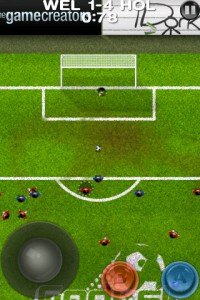 For those looking for more of a old school arcade version of soccer than offered by FIFA, The Game Creators has recently released Goals! in both Pro and Lite versions. The game has drawn comparisons to a popular 90s soccer game Sensible Soccer and has been getting favorable reviews in our forums.
Goals! is a top down arcade soccer game that uses an on screen joystick and virtual buttons to control the action. The game has been discounted to 0.99 in the days since it's release and also offers a Lite version to try yourself.
The Pro version was originally released at 1.99 and has since dropped to 0.99.
You can see the action in this gameplay video:
App Store Links: Goals! Pro, {content}.99, Goals!, Free
Other Articles