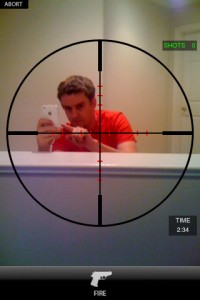 Aside from the Parrot AR.Drone quadricopter, we haven't come across much noteworthy in the world of iPhone gaming at CES– Everyone is far too busy looking at tablet computers being shown and speculating as to which is likely going to be the closest to Apple's tablet. That doesn't mean people at CES aren't playing iPhone games.
The developers behind Gunman [App Store], a camera-based shooter game, are currently running a contest encouraging people to get involved in Gunman battles at CES– And if the Twitter activity is any indication, quite a few people are. While this contest is largely irrelevant to those of us who aren't at CES, one great thing came out of it: Gunman is free for the duration of the convention.
Gunman makes use of the iPhone's camera to create a real-world multiplayer game similar to laser tag. By connecting to a WiFi network, players join a game then "shoot" each other by taking photos using the phone's camera. If you're running the latest iPhone OS, you can even zoom in as if you were using a sniper scope. Each player is tracked by the color of their shirt, and in my testing of the game I found the color recognition to be shockingly good.
The game comes with a few caveats of course. Large multiplayer games require WiFi, everyone must be wearing a different color shirt, and needless to say, until an iPod touch with a camera materializes you need an iPhone to play. Still, if you can round up a few friends all willing to wear different colored shirts that have iPhones in an area blanketed by WiFi, and don't mind people wondering what in the world you're doing running around pretending to shoot people with your phone, Gunman looks to be a lot of fun.
App Store Link: Gunman, Free (For a limited time.)
Other Articles