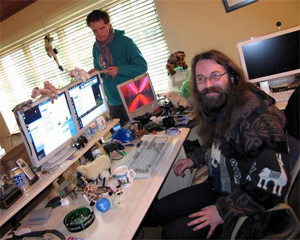 In the hills of western Wales there lives a man known to some as YAK. This man surrounds himself with sheep, goats, llamas, and the like. By his own description he is, like his four-legged friends, a bit of a "scruffy hairy beast," himself. He is incapable of turning down a quality curry, and, likewise, incapable of developing a game that does not break with tradition and bend the mind — to some extent, at least — of the player. And while the name YAK was spawned by necessity due to early arcade machines only recording three letters in the high score lists, he does have a real name. To normal folk — those perhaps outside the video game world — he is known as Jeff Minter. And to me, he has long been known as the king of indie game development. And Jeff "YAK " Minter has, at long last, found the iPhone.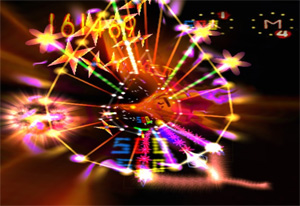 Jeff began writing games on the Commodore PET in the late 70s. In 1982 he founded Llamasoft, developing games for the Commodore VIC-20 and 64. His games have always been known for their distinctive, often psychedelic style. Some of his more notable titles include Tempest 2000 for the Jaguar, Tempest 3000 for the VM Labs Nuon, Gridrunner, Space Giraffe and Space Invaders Extreme for the Xbox Live Arcade, and even the "light synthesizer," the Xbox 360's musical visualizer. Jeff is a bit of a legend who has recently embraced the iPhone.
Of our favorite platform, he says,
I enjoy working on the iPhone because it's capable and interesting and the ergonomics make you rethink things a bit. I really don't like games that just try to replicate analog thumbpads on the touch screen – although some of those controls are very well done nonetheless I always feel a bit awkward sliding my thumbs around with no accompanying tactile feedback. Plus there's the added and inevitable disadvantage of having to obscure the screen you're trying to play on. I'm interested in developing stuff that's playable with the accelerometers and uses touches appropriately but sparingly and in a way that doesn't upset the view too much.
Jeff's first iPhone title — currently in progress — is a Time Pilot-style multidirectional shooter utilizing accelerometer-based controls. He indicates that the game is a good testbed for the generalized iPhone game engine he is currently working on. Jeff indicates that once this game is released, future iPhone games should come at a much faster pace — a few weeks or a couple of months tops per title — and he's got a lot of ideas for iPhone games. Great news for iPhone gamers.
Jeff recently released Gridrunner Revolution for the PC, which was highly rated in the latest issue of Retro Gamer magazine and, when asked, indicates that there's a good chance that we'll see an iPhone take on that title. "Probably not a straight port, but something specifically created for the platform and incorporating elements of the PC game," says Jeff. Let's keep our fingers crossed.
The highly accessible iPhone platform has attracted many superb indie game developers. Jeff's decision to join these ranks only takes the platform that much further towards gaming nirvana. We'll keep a close eye on what Jeff's woking on and keep readers well informed. In the meantime, have a look at Jeff's Llamasoft blog.
Stay tuned — there's some real iPhone gaming goodness on the way.
Other Articles