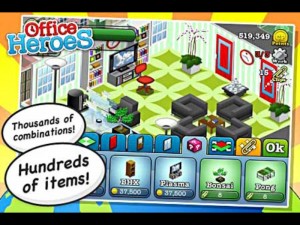 When we first saw Office Heroes, I admit I was more than a little surprised with the overwhelmingly positive response the game saw both in article comments and on our forums. It seems that social gaming is a guilty pleasure for many, and as I mentioned in the preview, Office Heroes has an incredibly clever premise in that you're wasting your virtual life away inside of an office as you're wasting your real life away sinking your time in to the game.
In Office Heroes, you have an incredibly customizable avatar who lives inside of a (initially) tiny virtual office. Gameplay is identical to similar social games in that you're managing in-game resources that are both generated by completing tasks in games with others that are gained via an in-app purchase. As you level up and get more friends, you unlock more decorations for your office and various gizmos to waste your avatar's time on. Absolutely nothing you do to earn money in game is productive in any way. For instance, you buy your little dude a computer and he uses it to tweet, or you can get him a phone to make personal phone calls, along with tons of other activities with other office items.
There's not much sense in really "reviewing" a game like this as it's free and you either love these kind of social games or hate them. Office Heroes doesn't do anything other games haven't done before, but it's still incredibly refreshing to play a social game that actually has an original premise. So many of them on the App Store do little more than pick a popular Zynga game and duplicate it, so it's nice to see Astro Ape Studios releasing something that doesn't have to do with tending fields.
Other Articles