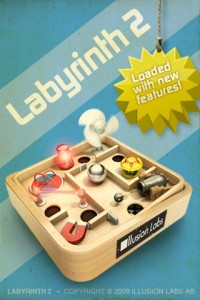 In what must have been an App Store approval quirk, Illusion Labs has released updates to both Labyrinth and Labyrinth Lite which offers customers an early peek at the gameplay from Labyrinth 2.
The 1.7.0 version update includes the following features:
Improved performance
User interface improvements
Improved in-game graphics
Sound system improvements
Stability improvements
5 Labyrinth 2 levels
Yep, play some of the new levels, complete with the new additional obstacles from within the original version. Labyrinth 2 has not yet appeared in the App Store, though we assume that it will appear at any moment. In the meanwhile, give the new levels a spin — though they do feel a bit out of place in the old versions of the game, and you miss out on the more gradual introduction of elements that is found in Labyrinth 2.
App Store Link: Labyrinth, .99, Labyrinth Lite, Free
Other Articles