Games with a similar gameplay mechanic to IUGO's Cliffed [App Store] will always have a place in my heart, as I burnt through countless sets of AAA batteries in my TI-83 through school playing a calculator game called Falldown which consisted of little more than navigating a small grayscale ball through sets of obstacles trying to fall as far as you could before being pushed up the top of the screen.
Cliffed takes this exact game premise, adds unlockable characters to play as, online multiplayer, global leaderboards, obstacles, and the ability to dash right or left to make it to the next level of platforms. Controls are delightfully simple, with giant arrow buttons on each side of the screen to control your character's movement. Double tapping makes you dash in that direction.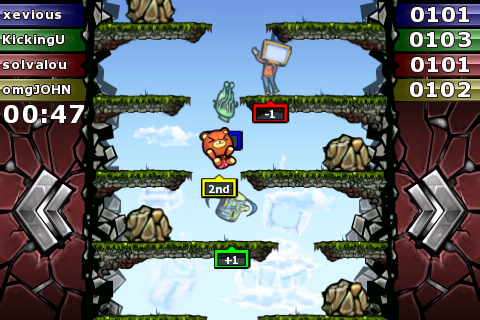 Online multiplayer works great, although sadly at this point there isn't much of an online community to speak of. I've managed to arrange a few games with friends online, but just trying to find a game with random opponents is easier said than done. That being said, when you do actually arrange a game, the multiplayer is fun and lag free. Cliffed would greatly benefit with the inclusion of some kind of friends system with push alerts, or some other way to get people in to your online games.
Cliffed is a great example of yet another iPhone title that takes an amazingly simple gameplay concept and fleshes it out with unlockables and online functionality to create a much deeper experience. If you're tired of all the games that have you jumping up, maybe it's time to give one a try that has you falling down.
App Store Link: Cliffed, .99
Other Articles