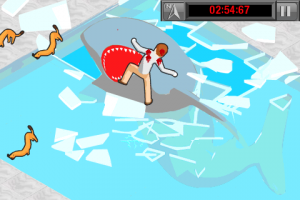 I first got a look at Five Minutes to Kill Yourself [Link] as part of an oddly secretive preview from the folks at Adult Swim. With the game's impending release in the near future, now is finally the time to pull the cover off Adult Swim's latest iPhone adaptation of yet another one of their flash games.
As the title may imply, in Five Minutes to Kill Yourself, you've found yourself fed up with working in your monotonous office environment and have decided to off yourself. Utilizing various objects found around your office, you only have five minutes to do enough damage to put yourself out of your misery.
It isn't that simple though, as your bothersome coworkers often initiate unskippable conversations with you. Much like working in a real office, these conversations accomplish nothing other than wasting your time. In some instances, through dialog choices you might get a coworker to attack you, but most of the time they just pester you about lunch.
You can staple your forehead, drink toilet water, pee on computers, and countless other things. The amount of objects that you can interact with and the objects that can be combined with others for even more lethal damage is pretty amazing. The following video shows the game's tutorial, selecting clothing, and finally, killing yourself:
[ Full HD version | Low Bandwidth version ]
Five Minutes to Kill Yourself is also available as a free flash game on crazy games. It plays exactly the same as the iPhone version, the only difference is instead of using your mouse you use your finger.
Five Minutes to Kill Yourself should be available on the App Store very soon.
Update: Wow, we weren't kidding about it being available soon. It was just released moments ago.
App Store Link: 5 Minutes to Kill Yourself, .99
Other Articles