We first saw the beginnings of Freeverse's Flick Baseball at WWDC last year, and I can only imagine how long it had been in development before then. Much like the recently released Warpgate [iPhone: $4.99 / iPad: $7.99], it's immediately evident that a lot of time and effort went in to this game.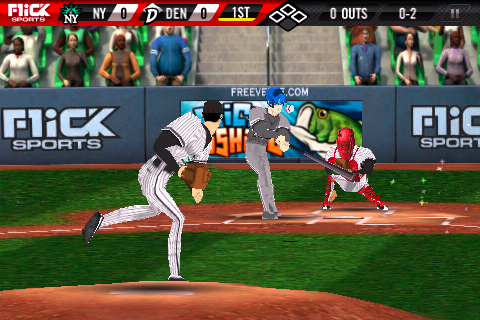 Flick Baseball is a full 3D baseball game that looks and plays a lot like a fleshed out version of Com2Us's Homerun Battle 3D [$4.99 / Free] with 3D players, tilt to aim batting, and some extra features such as being able to control your runners and where your outfielders throw the ball. Since Homerun Battle 3D is still one of my favorite iPhone games, I'm really happy with how Freeverse seems to have captured a very similar batting mechanic that works extremely well.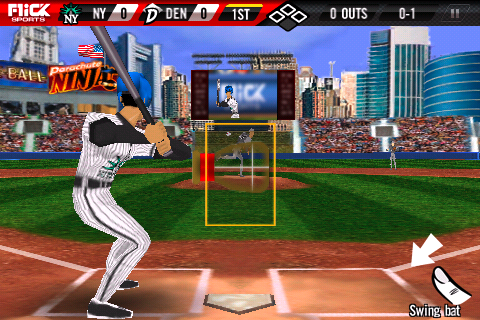 I've barely begun to scratch the surface of Flick Baseball, as we'll be saving that for our in-depth look in our full review, but this is a very complete baseball game. You can play both 3 and 9 inning baseball games in two different difficulty modes, and the entire game is driven by this crazy subsystem of player statistics. Some players bat better than others and as such have a much larger hit zone when they swing, and others require your aim to be practically perfect when batting to hit. There are tons of other stats that control every attribute of each player of your team.
34 teams are included, and you can build your own team with a custom name, lineup, uniform color, roster, stats, and everything else. You could likely spend hours doing nothing other than building custom teams in this game if you wanted to. There are full 11, 33, 66, and 165 game season modes with all kinds of stat tracking, a playoff mode, and the games even change from night to day depending on the actual time of day it is in the city you're playing at.
Here is a video of me playing a couple innings, which features a lot of strike outs and a beginner's luck home run:

Flick Baseball should be available May 3rd, so keep an eye out for a full review and another video of me (hopefully) hitting nothing but home runs with my tricked out custom baseball team. So far I'm really enjoying the game a lot, and look forward to getting deeper in to it.
Other Articles