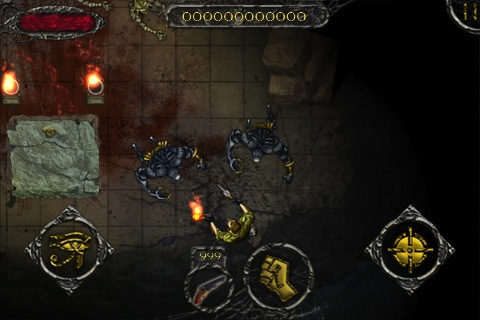 The dual stick control method works great on the iPhone, and as such, it seems like there is no shortage of dual stick shooters. Much like sifting through recently released match 3 games, a lot of them feel very similar, but every once in a while you stumble across a game like Pastel Games' Shadow Edge [App Store].
Set in the 1940's, Shadow Edge has this whole Indiana Jones-like thing going for it where you're an allied soldier searching this tomb for some kind of artifact to help turn the tide of World War II. This can all be seen in the opening cinematic of the game.
You then fight wave after wave of undead enemies, using a variety of different weapons and always making sure to keep the torches of the level you're on lit so you can see. The graphics of Shadow Edge are great, and this lighting gameplay element not only adds a cool sense of urgency as you patrol around making sure torches are blazing.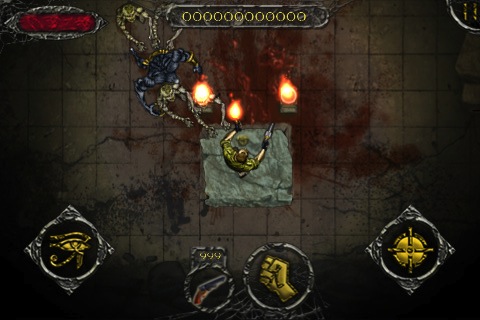 The controls work just as well as the other dual stick shooters on the App Store, and they never seem to get in the way of fending off wave after wave of undead baddies as you play through either the included adventure mode or arena mode which allows you to select any of the included maps to play.
The developers posted the following gameplay video where you can see how the game all goes together, notice how they're constantly refreshing nearby torches to be able to see:
At this stage in the life of the App Store, there's no doubt a lot of these dual stick shooters all sort of start to feel the same. Shadow Edge has a cool atmosphere I really like, with a great graphics engine that does a good job of making you feel on edge as monsters creep out from the darkness– Especially when you play with headphones on. I'm not sure if that's enough to truly set it apart from the sea of similar games, but if dual stick shooters are your thing, Shadow Edge is definitely worth a look.
App Store Link: Shadow Edge, $1.99
Other Articles