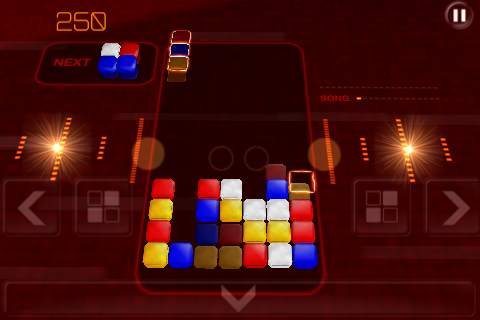 Early this month Empty Clip Studios gave us an exclusive preview of the upcoming iPhone port of their download / retail Wii rhythm puzzle title, Groovin' Blocks. Those anxious to get their hands on this one can now try the full [link] or lite [link] version, which went live in the App Store yesterday.
Each of Groovin' Blocks' 50 levels is played to a pumping techno soundtrack with scrolling beat-indicators on either side of the screen.  Block clusters slide onto the playfield in a Tetris-like fashion, and will ultimately come to rest at the bottom of the screen.  A tap on the 'drop' button will quickly drop the piece into place — but if you "hit a beat" (tapping the drop button during a beat of the soundtrack) the blocks will be bigger, brighter, and worth more points.  Hitting consecutive beats without a miss increases your score multiplier — but miss a beat and it drops back to zero.  Hitting the occasional Superbeat, shown brighter in the scrolling beat display, will double your current score multiplier.
Certain blocks contain power-ups that can be collected only if you hit a beat when placing said block.  Power-ups are unleashed when the successfully placed block is destroyed by a match-three scenario.
See our preview video for a closer look.
[ Full HD version | Low Bandwidth version ]
GameSpot calls the Wii version of Groovin' Blocks "a music-based game like no other."  As we said in our preview look, there's no shortage of match-three puzzlers in the App Store, but Groovin' Blocks' musical / rhythm component really does set it apart from the pack.
Other Articles