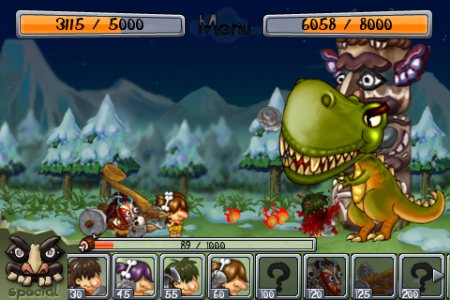 In Ancient War, you become God of a tribe attempting to destroy the enemy's totem pole while trying to defend your own at the same time. To accomplish this task, you are given several types of attack units ranging from militia to giant dinosaurs. The game is actually quite challenging, even on the novice level. Even though it's fun at first, it won't be a game to keep on your device for long.
The main objective of the game is to destroy the other tribe's giant totem pole. Tapping on a specific unit at the bottom of the screen will create that unit and dispatch them onto the screen. The unit will automatically move from your side of the screen to the enemy's side until it reaches either the totem pole or an enemy unit. Each unit requires a certain amount of food points to create. These food points are deducted from a constantly accumulating supply that's shown at the bottom of the screen. Here's where the first bit of strategy comes into play. If you only have forty food points and you create a militia unit that costs thirty food points, you now have ten food points and must wait until the point accumulate until you are able to create another unit. If you wait for the food points to accumulate to a higher number, you can create more units at one time. The game offers eight different units, all of which can be upgraded to more powerful levels.
At the end of each level you earn gold that can be used to upgrade your technology. For example, you can use gold to make your hunters more powerful, which will defeat the enemy units easier. There is also something called "miracle", which is an act of God that will rain down multiple fireballs onto your enemies. Upgrading this technology will put a very powerful weapon in your hands.
The top of the screen displays the life of each totem pole. This is also upgradeable in that you can increase the amount of life your totem starts with. The more life you have, the longer it takes for the enemy to destroy you.
The gameplay is quite simple. All you have to do is keep tapping on the units you'd like to create, when you want to create them. You will always send one unit at a time, but if you think it through, you can start sending units in groups, which are much more powerful than individuals. Strategy is really what this game is about. You have to think about what type of unit you want to send over, and when. As you progress through each level, the enemy becomes increasingly more difficult, forcing you to upgrade your units to maximize hit points and damage. You can play through each level on multiple difficulties, which definitely increases the game's value. Graphics, music and sound effects are all done very well. However, it appears as though they cut corners with regards to animation. Unit and weapon movements are just a bit too simple and choppy. The totem only appears to have three stages. It either looks like new, a bit beat up or completely destroyed.
Overall, Ancient War is a fun game for the first couple of hours. The main drive is to unlock more units and get to the next level. But, sometimes it takes too long to beat a level, and you're just doing the same things over and over again. It becomes routine, tapping on the same combination of units to push forward and destroy the totem. In other words, it gets boring fast. Luckily, there is a free version to check out first, and I strongly recommend doing so before making a purchase.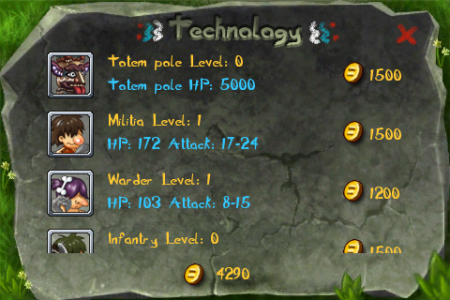 Other Articles