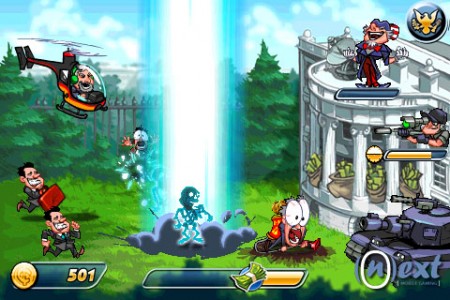 Bailout Wars first came to our attention back in August for its topical twist to the castle defence formula. Unlike the long, drawn out recession, it's short, sweet, and won't break the bank.
The game puts you in charge of defending the White House and protecting taxpayers' money from greedy bankers. As you flick away waves of relentless bankers, you earn coins that you to buy upgrades for your defences. These include a tank, a sniper, and Uncle Sam, who appears to be in control of a giant orbital laser for those national security crises that conventional bullets can't fix.
Different bankers require different tactics. While the standard city minion can be tapped until he explodes or simply flicked away, briefcase-carrying bankers float safely to the ground when flicked and a CEO can only be damaged by the White House's weaponry or by flicking bankers directly at his head.
Tapping makes sense in the early levels, where the slower pace allows time to experiment with the various death-dealing gestures. Strategy quickly goes out the window as the levels fly by, however, and you quickly find yourself rapidly swiping your finger across the screen praying for Uncle Sam's weaponry to reload so it can relieve the pressure.
As you progress, the gameplay is repeated, with every level strangely similar to the last. This goes on until your fingers cramp and The White House is overwhelmed.
Some depth is to be found in poring over stats of your games and achievements to be collected. Amazingly, I had accumulated the vast majority of achievements after a quick play, missing only those that require extended periods of play (e.g., defeat 25,000 bankers).
Every time you play you need to start again from level one. Considering that the first couple of levels are fairly tedious it's something that you should be able to skip. Bailout Wars would fare much better with a 'save game' feature incorporated so that harder levels could be re-attempted straight away.
It's not all doom and gloom, though. The visuals are top drawer and the expressions of the bankers just before they pop are priceless. The audio is equally funny, with bankers and weapons producing incredibly satisfying yelps and blasts.
With just one game mode, only three upgrades and no sense of an achievable goal in the game, once you pass level ten you will have all encountered all five different types of banker and everything that Bailout Wars has to offer.
A final plus is that – unlike most of Gameloft's previous titles – Bailout Wars is priced very reasonably at just 59p or $0.99 (we're in a recession don't you know). An appropriate price for a game that's good enough for a quick 15-minute finger bash every now and again.
Other Articles