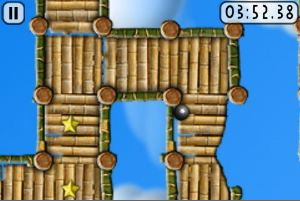 There's nothing worse than having a cracking idea only to waste the opportunity by being too tentative in the execution.
Likewise, going way too far and blowing it is equally frustrating. The happy medium is the territory for which to strive and it's never easy to find.
Little Metal Ball, despite promising moments, doesn't quite make it. By virtue of its complicated controls, it departs from the simple pleasures of similar ball-rolling platformers like Labyrinth 2.
If nothing else, this is a game that shows just how easily things can begin to unravel if you overstep the mark, even slightly.
Labyrinth love letter
To be fair, it's a lot more ambitious than Labyrinth. The game spans 40 levels in four different zones that grow larger as you progress, each one calling on a collection of new features and hazards that would initially seem more at home in a platformer.
At times, it really works. Your aim is to move your little metal ball to the finish line as quick as you can by tilting your handset. On the way, you can pick up stars, each one adding seconds to the ever-ticking clock that counts down throughout. The more seconds you have to spare at the end of the level, the higher the medal you're rewarded.
Of course, some of the stars are so out of reach that going for them – with all the restarts involved – is barely worth it. Sometimes the wiser option is simply to make a dash for the exit, ignoring stars as you go, but Little Metal Ball is designed to make things as trying as possible. The times when you can throw caution to the wind and fly straight through to the finish line are few and far between.
Jump start
Little Metal Ball never tires in giving you hurdles – both metaphorically and physically – to leap over.
Jumping over gaps becomes commonplace (how long you hold a finger to the screen determines the power of a jump) and there are also buttons to press that set off moving platforms – staying on them when in motion is a task in itself.
In fact, you can't fault Little Metal Ball in terms of sheer scope: the interactive elements keep things fresh and the visual design, despite looking fuzzy when captured, is actually a surprisingly crisp treat in motion. That, however, doesn't make it a treat to play.
Arguably, for a game where the bulk of the controls are so straightforward, the levels are conversely too unforgiving. Checkpoints are too far apart and the difficulty ramps up too hard, too soon. Not to forget, holding your finger down to jump never really gels with the otherwise snappy gameplay.
Little lengthy ball
Levels are entirely too long, feeling like a mash of several separate levels. Rather than organising levels into bite-sized chunks for portable play, the game relies on long runs that test your patience.
It's a set-up that completely kills any momentum. Smooth runs through the first half of a level are dramatically cut down by a couple of mistakes later on, the seconds that are chopped off with each run-off track quickly turning any semblance of fun into utter frustration.
What makes it all the more unforgivable is that, when one part of the longer levels is nailed, it feels entirely fruitful. One moment you're celebrating success, the next cursing failure.
Such bipolarity prevents Little Metal Ball from reaching that vital middle ground necessary to keep this good idea rolling.
Other Articles