We have been playing Meow Meow Happy Fight for the past few days and we love it.  Essentially 'Happy Fight' is the death match simplified and it's great.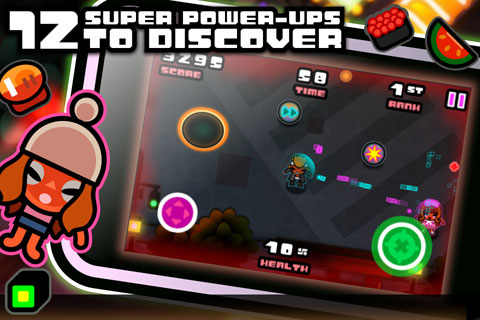 Let me start from the beginning, Happy Fight is a top down arena shooter where you and multiple enemies must run about totting up as many frags as possible.  As always, around the arena are power ups and weapons which you use to damage and destroy your opponent.
This all sounds pretty straight forward so far.  Where it gets weird is the characters, collectibles and general premise of the game.  The battles are set in a vibrant Tokyo setting with neon lights and colourful set pieces.  The story is simple; in the future, everything is too happy so a cat from the future has come back to bring happiness and destruction… yes I did say that… It's crazy, but so is everything about this game. Each of the weird and wonderful characters are contained with shield ball and these include hamsters, cats, people, ghosts, zombies and even cup of noodles to name a few.  More characters are unlockable as you collect 'happy points' from each bout.  As people die they spawn a varied selection of collectibles which help with random achievements which you need to see to believe (such as the Bento Box Achievement for collecting all the food which goes in the box???).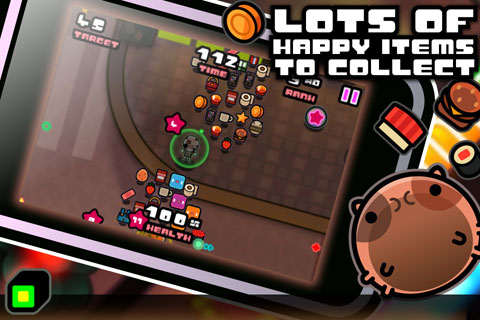 The graphics are lush with a neon, cute, Japanese styling and the sounds match it perfectly.  It's Openfeint enabled so you can see online scores, gain achievements and play other people, however due to this being a pre-release version we could not test this aspect of the game.  However, playing solo was good enough for us as the enemy AI is great and the difficulty grows as you progress through the levels.  The shear wealth of unlockable characters and collectibles (which include, toilet rolls, melons, plunger, plasters, leaks and Piyo blocks), will keep you entertained for hours and given that this can be played over Openfeint should increase the longevity as well.
Overall, this is a game ideally suited for the platform, the controls are simple, the action is fun and the visuals are stunning, it's the death match simplified and we love it.  Matches are short and frantic so you can dip in and out as you see fit.  I'm sure that this game will have an iPad version coming out soon and we look forward to seeing more of the arena as our only criticism would be that you can't see enough of the game zone whilst playing.  However, this will be staying on our iPhones for a long time yet
Great Job Pixel Studios, a fun little shooter in a sea of crap apps!
COMING SOON TO APP STORE: KEEP AN EYE OUT ON THE 5TH AUGUST!!!
Other Articles