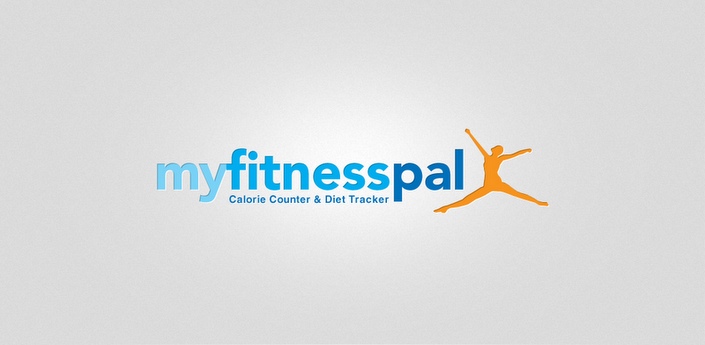 One of the most popular health and fitness apps; My Fitness Pal apps are completely free and available to download on a variety of smartphone devices. The site, and subsequent app, was originally the creation of two brothers who were looking to lose weight and this theme of solidarity still runs through the site and app in the form of a large community.
The My Fitness Pal app helps users to change their lifestyle and become healthier by tracking calorie intake, as well as activity levels, and set weight-loss goals and monitor their own progress. Self-tracking is the new personal training.
Upon download the app requires users to enter some basic data, including their name, weight, date-of-birth, and height as well as their end weight loss goal and a preferred 'pounds-per-week' loss target (this is automatically set to one pound per week as this is the figure recommended by most experts.) The user must then also enter information regarding their weekly exercise.
When the app has collected this basic information it can begin to work towards tracking the user's progress. After registration the app will open a summary page that includes a calorie counter to display the calorie budget left for that day as well as a summary of the type of calories that have been consumed (carbohydrates, fat, protein, etc.), as well as any news or progress updates from the user's followers.
The site and app work on the premise that losing weight is incredibly difficult on your own. The My Fitness Pal app gives the user access to a wide community of dieters who are all looking to lose weight in varying degrees, this connection can aid the user in their quest to lose weight as humans are, by nature, social creatures – we are more likely to lose weight if we are part of a group of dieters. The community is an incredibly important part of My Fitness Pal and users are encouraged to connect with each other to support progress, the app even highlights the progress of dieters you are connected with in a newsfeed on your summary page.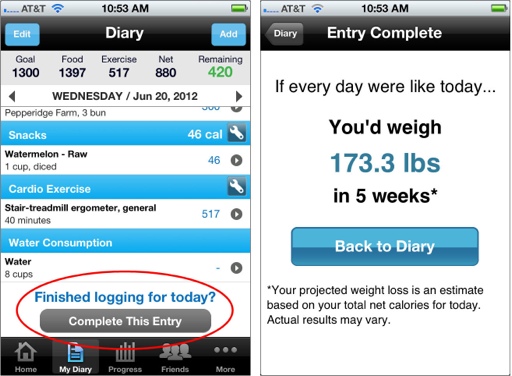 If a follower hasn't logged into their app for a while users are encouraged to show support for their friends.
The app acts as a portable food diary and adding entries is incredibly easy. Next to the calorie counter on the summary page is an 'Add to Diary' button – clicking this will then give users the option to search for the food they have eaten or even scan its barcode! The database is extensive and contains over 1 million food options, even specific meals from your favourite restaurant! As you log your food intake calories will be taken from your daily budget which is calculated when you register, depending on how much weight you want to lose.
As well as logging food consumption the app requires the user to enter any exercise completed each day. Again, the app's database contains over 350 different exercises making entry incredibly fast. Every day users can enter their weight into the app, which will then track progress. Weight is shown in a graph format allowing visualisation of progress making it much easier to determine the rate at which a user is losing weight. For added encouragement the app will produce a message daily stating how much the user would weigh in 5 weeks if they continued to eat and exercise in the same way.
The My Fitness Pal app is compatible with both phones and tablet devices. Some people will use their phone to log exercise and food intake as they happen and then use their tablet to analyse their progress later on.
My Fitness Pal also integrates with a number of other fitness monitors to help users reach their goals and monitor their progress more precisely.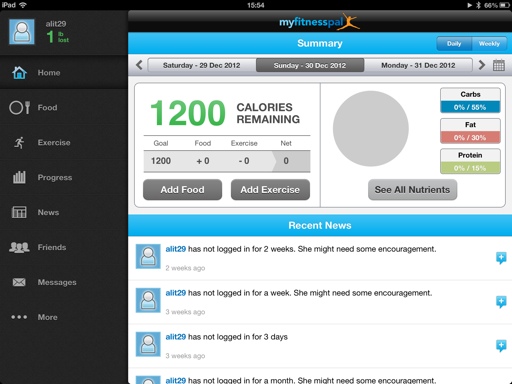 Fitbit is a personal activity monitor that links perfectly with My Fitness Pal to record information regarding a user's daily physical activity. Linking the two allows My Fitness Pal to adjust Net Calorie Goals over the course of a day, helping users to meet their weight management goals more precisely.
Endomondo is another integration option in the form of a smartphone app. The app will track duration, distance and calories during distance-based exercise and when linked with My Fitness Pal will automatically log the exercise into your diary.
The MIO Active Connect Watch is also a personal activity monitor that records heart rate and calorie burn and when linked with My Fitness Pal will enable the app to adjust Net Calorie Goals.
Much like Edomondo, the Runtastic integration for My Fitness Pal acts as a GPS tracking device in your phone that maps various aspects of your progress when running or biking and then logs the information in your exercise diary.
Whatever type of smartphone or device you are using, the My Fitness Pal app offers portable food and exercise entry to track calories burnt daily to help lose those pesky extra pounds. It's free and it works, what more could you want?
Other Articles