Physics Gamebox [99¢] hit the App Store recently and is packed with iPhone ports of two extremely popular Flash games originally created by NewGrounds superstar Johnny-K. Included in the Gamebox is Roly-Poly Cannon and Ragdoll Cannon, both freely playable on NewGrounds in any web browser sporting the Flash plugin.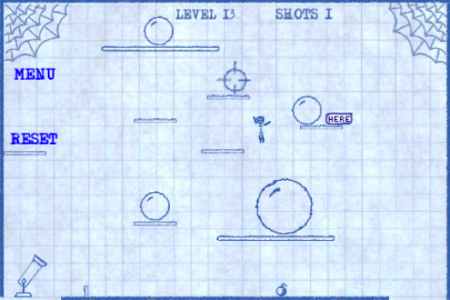 Likely the most recognizable game out of the Physics Gamebox is going to be Ragdoll Cannon, which actually has been a free Flash game quite a long time before Backflip Studios' Ragdoll Blaster [$1.99] landed on the App Store. Gameplay is practically identical, right down to the art style. In Ragdoll Cannon, you touch the screen to launch ragdolls to hit a box marked "HERE". Just like Ragdoll Blaster, you can either play Ragdoll Cannon valuing accuracy and precision and attempt to clear levels in as few ragdolls as possible, or you can just go to town spamming ragdolls to your heart's content until one of them manages to run in to the target.
200 levels are included for Ragdoll Cannon, and there is a good difficulty curve which didn't take long before I found myself stuck on a level hopelessly spamming ragdolls trying to figure out what to do. Thankfully, in these instances, you're able to skip forward up to five levels so you're never really ever stuck in the game… Unless of course the five levels you can skip to you're also incapable of solving.
The second game in Physics Gamebox, Roly-Poly Cannon, is actually much more fun than I was expecting it to be. It uses an identical control system, where you tap on the screen to aim and fire bombs with the power controlled by how far away from the cannon you're tapping. Instead of shooting ragdolls at a target, you're firing bombs at enemies on screen. Killing all the bad guys on screen often requires the clever use of other bombs that are already set up on a level, and an additional layer of complexity is quickly thrown in with good guys that you don't want to blow up.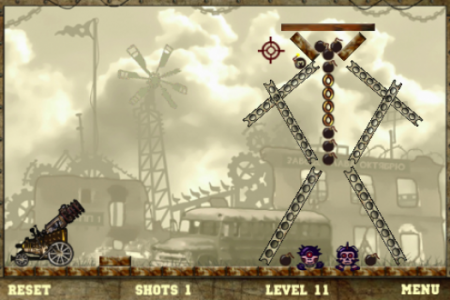 Only 100 levels are included in Roly-Poly Cannon, but they seem to be much more complicated on average so it wouldn't surprise me if you got just as much (if not more) playtime out of this half of the game, especially if you find yourself getting in to clearing levels using as few bombs as possible. Just like Ragdoll Cannon, if you find yourself stuck, you can also skip ahead up to five levels in Roly-Poly Cannon.
Touch Arcade Forum members are having a lot of fun with the game per responses in the Physics Gamebox thread, and I've had a great time so far playing through levels in both Ragdoll Cannon and Roly-Poly Cannon. If you were among the millions of people who have downloaded physics games like Ragdoll Blaster or its sequel, Angry Birds, and other similar "shoot things at other things" games, Physics Gamebox should be an easy purchase.
Something to look forward to in the future is the fact that the original creator of these games, Johnny-K, has created quite a few sequels and level packs for both Roly-Poly Cannon, Ragdoll Cannon, and other similar cannon games. Hopefully these will eventually also be released, either as separate game boxes, updates, or DLC addons. Or, at least, I've got my fingers crossed.
App Store Link: PHYSICS GAMEBOX, $0.99
Other Articles