The last time I played a Rayman game was on Playstation 2 and whilst it was a solid platformer I don't remember it being amazing. More recently, I have heard a lot of chatter regarding Rayman Origins and Legends praising its humor and its level design so I decided to enter this limbless world and download Rayman Jungle Run.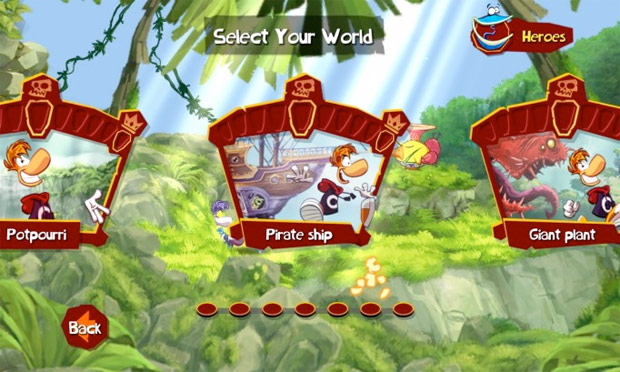 This 70 level action platformer seems to have distilled down its console based parent into three simple actions, tap one side to jump, the other to hit and hold to fly. The four areas (with ten stages in each) are broken into actions so you learn how to jump in the first ten, fly in the second, wall run in the third and finally hit in the forth. Once you have nailed these skills then the final 30 levels see you running for your life away from what looks like angry old men and spikey plan life.
On each level you will be driven to collect navi-like 'oms' which are similar to glowing fairies. The amount you collect, coupled by the speed at which you complete the level is all totted up to give you a score at the end. It will ultimately be this score that will drive you to redo levels in order to improve on your last run and gain unlockables. Each of the wonderfully designed levels feel alive as platforms fall, plants weave and helping hands swing you across chasms. As you run around like a headless chicken you will notice little alleys, or alternative routes that, should you be inclined you can memorize for next time.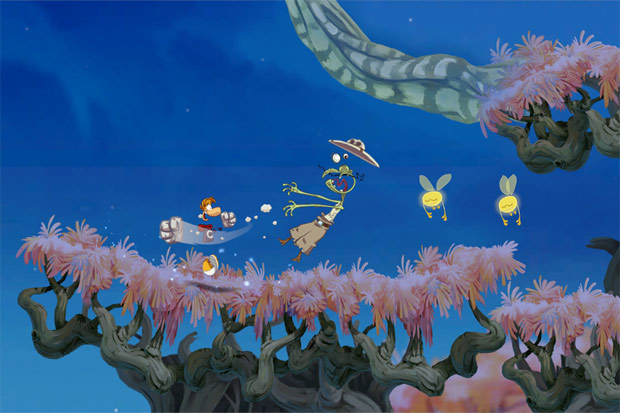 The graphics are lush with smooth and amusing animations coupled with an array of ditties and tunes that will make you smile. All of which culminate to create a heart pounding action platformer that will make you smile every time you play it. At first I was a little hesitate to pay the $2.99 price tag but I am happy that I did as I have well and truly got my moneys worth. This is a great game that is easy to pick and play in small bouts, but do not be surprised if you find yourself tackling some if the more difficult levels for longer than you planned.
The polish and amusement of this game has definitely spurred me on to try out its console counterparts.
Related articles
Other Articles