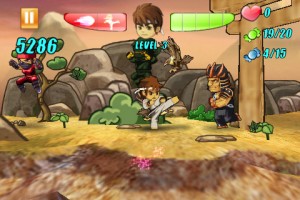 Tap Fu offers a fun casual fighting game that can be played in short spurts or in more prolonged sessions when you're looking for a little more action. While it isn't a particularly deep game, Tap Fu provides an enjoyable enough gameplay experience that makes it worth considering.
The game has 4 modes: Story, Survival, 100 Rounds and Training. In Story mode, you play the role of a Tap Fu Trainee out on a mission to recover candy that the Sweet Tooth Clan has stolen from your village. Under the tutelage of the Elder Tap Fu Master, you gradually learn new skills. The story is told through cut scenes, dialogue boxes and muffled dialog. One of the things to keep in mind is that Tap Fu's Story mode is a work in progress that currently only includes Chapter 1: Ninjas (7 levels). While additional chapters are planned in later updates, the content that is there right now offers just a glimpse into future installments.
Meanwhile, Survival mode offers high-scoring opportunities by battling a continual onslaught of enemies. A variation can be found in the other mode 100 Rounds where you must defeat the entire wave of enemies to move to the next round. Both modes provide the option of playing in two different locations: Mount Fuji and Sakaki Forest. Whether in the village or on the mountaintop, the colorful backgrounds look terrific even though they are limited in variety.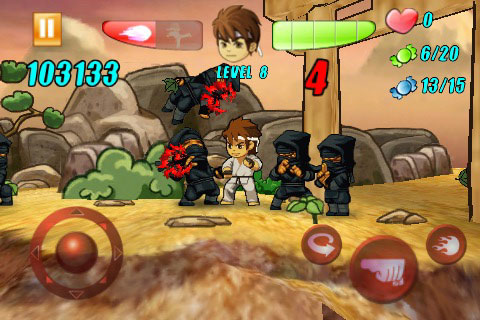 The big selling point for Tap Fu comes in your Tap Fu Trainee's fighting abilities. These abilities—blocking, quick attack, jumping, spin kick, back kick, roll, and fireball—visually look great and the entire combat system is intuitive and well implemented.
Using either the virtual d-pad or specific finger gestures, these various moves can be performed. The easier of the two control options is the d-pad with specific action buttons that appear when available. The gesture-based controls require a bit of practice, but are also well implemented. Jumping for example can be accomplished by swiping upwards, while swiping downwards will result in a roll. In general, the quick punch/kick attack is activated by tapping the screen and will be your primary method of attack against ninjas.
Tap Fu includes a local and online scoring system which awards points for combo moves and style. The game also incorporates an achievement system for points scored, battle combos, damage inflicted, and length of survival.
In both Story and Survival modes, Ninjas do become more difficult to slay as you progress, as well as gain the ability to cloak their appearance and teleport from one place to another. While the gameplay can get intense, it is also becomes rather repetitious as there is a limited variety in the enemies. We also found the difficulty ramp up in survival modes to be very slow, making an average session drag out into more of a grinding experience than we wanted.
While the game's art and core fighting mechanics are wonderfully executed, the current version of the game noticeably suffers from the inclusion of only an abbreviated story mode. Tap Fu can still be fun a game for those looking for a casual fighting experience, but we expect that it will quickly grow old those hoping for a deeper game.
App Store Link: Tap Fu, .99
Other Articles