I like to think that I'm pretty organised when traveling, as I love reading guides, hearing about experiences and acting on guide information, to make sure my latest adventure is just that. After a recent tour of the west coast of America I found myself making a new friends of the digital variety.
I had been recommended the Viator app and in particular, their VIP access services. It can save you hours in research time as you attempt to find where to go and when to go there. I started using their services in San Francisco when be booked our amazing trip on the Napa Valley Wine Train. I couldn't believe how painless it was and what a fantastic experience I had. My worry about having a printed confirmation was quashed by the fact they had a passbook app for iPhone meaning they could scan my phone for confirmation.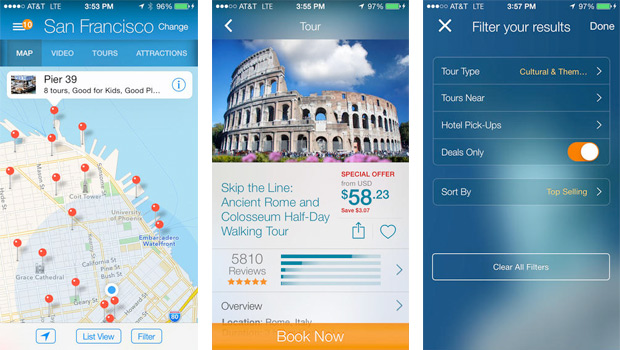 As the tour took us down the coast road through Santa Cruz, Santa Barbara and finally Santa Monica we used the app religiously. It's guides were useful and honest and the visitor feedback was always great to read but it was the VIP access that kept me hooked and when we finally reached LA it paid off, when we used it to book a VIP experience at Universal Studios.
Eight of us were treated to a behind the scenes look various sets in the Universal back-lot. from plane crash scenes to walking on the set of some of the top comedies. As we walked around the props warehouse, real film crews were going about their daily businesses as if we were extras in some TV show. All the while we smiled to ourselves as we thought of the hundreds of people currently queuing in lines and scrabbling for views of the shows.
Thanks to the App I was able to arrange some of the most memorable experiences the West Coast had to offer. I was skeptical about a travel app that books trips and tours for you thinking they would be bias and overpriced but I was pleasantly surprised to see both the guide and a booking agent go further than just taking you to tourist traps.
Other Articles