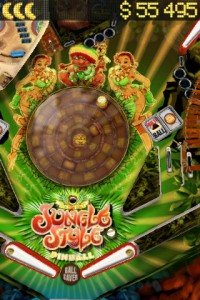 Among iPhone gamer pinball fans, it seems like debate of which of the pinball series is the best on the platform is as hotly contested as Star Wars nerds arguing over which is the best movie in the original trilogy. I'm partial to Gameprom's pinball games, as they all load very quickly, seem to have realistic pinball physics, come packed with online leaderboards, and have camera options to either follow the pinball or stay locked and display the entire table.
Wild West Pinball [Free] was released first, followed by The Deep Pinball [Free] and as of a few days ago, Jungle Style Pinball [99¢] is the latest in Gameprom's pinball lineup. Normally both 99¢, Wild West and The Deep both went free to promote the launch of Jungle Style. On top of that, the previous two games also were recently updated to "Christmas Editions" which just amount to each of the tables having their art slightly modified to be more festive.
Jungle Style Pinball takes the same gameplay and adds a new jungle themed pinball table. Much like The Deep was an improvement on the table found in Wild West, Jungle Style takes this even farther with even more things to hit and hidden areas to boost your score.
The developer released the following gameplay trailer:
I highly recommend downloading The Deep Pinball and Wild West Pinball while they're free. If you enjoy either of those games, you should like Jungle Style Pinball just as much if not even more.
App Store Links
The Deep Pinball, Free
Jungle Style Pinball, 99¢
Other Articles