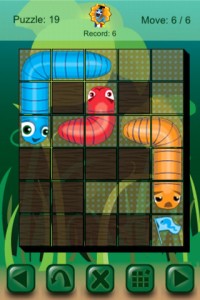 I'm always on the lookout for new twists on puzzles. Sometimes these new twists or elements work and often times, they don't. Besides the degree of fun which is highly subjective, the ideas that generally work and succeed are the ones that add complexity without complicating the game. When I first started playing Wriggle, I was lured in by the fun looking graphics, but what's kept me playing is the mind benders that at first glance look simple enough. As you play with Wriggle, it becomes a test of logic all presented in a lighthearted package.
Wriggle is all about squirmy worms that come in a variety of colors. The only one you really care about is the blue one that must get to the exit within a certain number of moves. While the goal sounds mundane on paper, in practice, Wriggle is brain teasing at its best.
The control scheme involves your finger and the ability to drag Blue and the other worms in whatever direction. Wriggle has 4 levels of difficulty—easy, medium, hard and expert—with 80 total puzzles. In order to unlock the puzzles at the higher difficulty, you must complete 50% of the puzzles at the previous difficulty.
Each puzzle has a number of moves in which you must get Mr. Blue to the exit if you're to receive an award. This involves strategically moving the other worms out of your way. Worms can be moved by dragging the head or the tail, and moves are counted when you drag a new worm. In terms of other features, once you've unlocked a set of puzzles in a difficulty level, you can choose to play any of the puzzles, skipping forward or replaying previous puzzles. Within each puzzles, a handy undo button is available so you can re-think your strategy without having to start from scratch. Plus, the game has auto save so your progress is saved regardless of where you left off.
Wriggle fits in that category of "simple to play but difficult to master". It provides enough puzzles with a range of difficulty levels that novice and advanced puzzlers will enjoy, and provides enough to keep you coming back
Other Articles