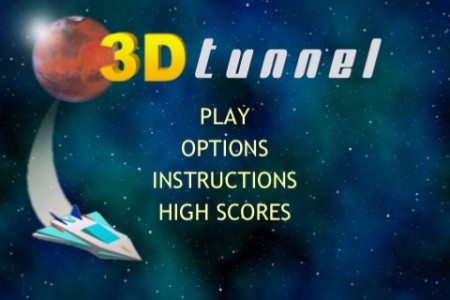 3D Tunnel may have been better suited with a catchier name and a background premise.  For example, calling the app "Wormhole" and having the spaceship trapped in a wormhole trying to find the way out work be easier to market (unless there is already another app named Wormhole).
Game play is pretty simple.  You tilt the device to the right or left or up or down in order to move the spaceship in that direction.  If you touch the sides of the tunnel, you explode and thus lose the game.  There are options to adjust the sensitivity of tilting the device as well as flipping the x-axis and sound.
The game is a good idea and very simple to use.  There are one or two improvements that could be made to make it better.
First, the spaceship design looks simplistic and amateur.  This conflicts with the tunnel efffect which looks kind of cool.  This is where a good graphic designer would come in handy.
Second, when I play the game I'm usually not holding it parallel to my face.  I'm holding it downwards at an angle, and although i can flip the axis, it still was a little difficult to handle the controls (even with the sensitivity setting in the options menu set to low).
The game is a little pricey for what it offers.  I would pay $.99 for this one, but not $2.99.  I'd wait for a decrease in price before purchase.
Quick Take
Value: Decent
Would I Buy Again: Possibly, if the cost was $.99.
Learning Curve: Low.
Who Is It For: Flight simulator fans.
What I Like: The game itself.  The tunnel graphics.
What I Don't: The spaceship design.  The inability to set a custom angle to play.  The price.
Final Statement: Would be worth it at a lower price.
Get App From App Store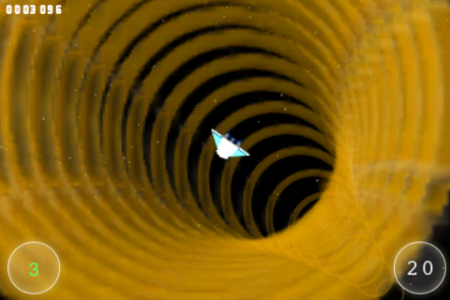 Get App From App Store
Other Articles