2014 is going to be a big year for smartphones. The idea of a high powered handheld device which could do everything from making a phone call to writing an email with a bit of game playing and film watching in between is now somewhat more than a pipe dream. The arrival of the smartphone has been a long drawn out affair, but it's fair to say that the products that have hit the stores over the last two to three years really are now what we have all been hoping for, since we were blighted with products like the Nokia N97 a few years back. With Android fully developed, a thriving and growing Windows 8 culture amongst many people, and of course the excellent Apple OS available, there is so much high quality choice for everyone out there. These days, the only difficult decision is choosing which phone is the right one to go for. 2014 is going to be chock full of new devices to choose from, but it's going to be a question for many of whether or not to wait for new arrivals or opt for the strong and very able performers of 2013. Here are few from both camps to have a think about.
Samsung Galaxy S4
This is one of the top selling phones of 2013, and with good reason. With an excellent processor, a beautiful screen, which is an impressive 5 inches, and a pixel density of 441ppi, it is a leader in its field. It looks great too, and while it perhaps does not have the build quality of the iPhone, there's no doubt that it's given Apple a significant scare in the last year. With plenty of Storage, a 13MP camera, full HD recording capabilities and a quad core processor, there's not much out there to beat this great phone right now.
iPhone 5S
Apple don't like to change what they think is good, too much, and that is evident in the iPhone 5s. While it looks exactly the same as the iPhone 5, it is inside that counts sometimes. Blessed with the rapid A7 chip, it can tackle anything you throw at it with ease, and of course, it has that delightful Apple build quality that other phone manufacturers struggle to match. It is looking a little bit dated now though, and many people just won't put up with a 4 inch screen when there are so many good products on the market which offer much more. Are we likely to see a much different iPhone 6 in 2014? Only time will tell.
HTC One
The HTC One doesn't do too much more than the rest of the competition, and while sales will have disappointed the company, critics drooled over its combination of power and poise. Perhaps its strongest suit is the all round package. Gorgeous looking, high build quality, married with the technical prowess and screen size of the Samsung phones of this era suggested a phone that matched the build quality and looks of Apple and the size and user friendly features of other top performers like Samsung. The sales haven't reflected this, but we know a good phone when we see one, and this very definitely falls into that category.
Samsung Galaxy Round
We're not yet sure whether this phone, or a similar device, is going to be released in the UK, but what we do know is that the Samsung Galaxy Round is already on the shelves in Korea. This incredible device features a curved, concave screen, which is a whopping 5.7 inches in size. The rest of the package is pretty impressive too, matching the Galaxy Note 3's specs round for round. This means a great screen, a quad or even octa core processor, and all of the features and more of the Samsung Galaxy S4. If this sees the light of day in the UK, it's going to fly off the shelves.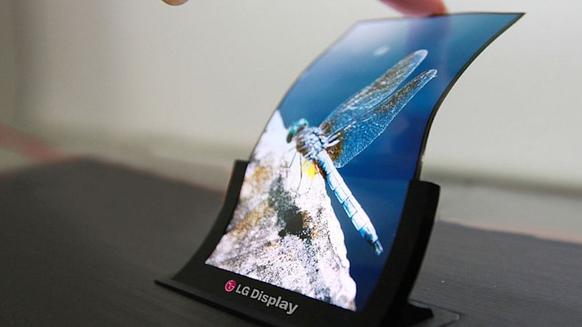 LG Flex
Perhaps one of the most intriguing devices to be launched next year is the LG Flex. The LG brand has suffered significantly over the last couple of years, with an array of mobile devices that didn't really cut the mustard. Having teamed up with Google to deliver the Nexus 5 in 2013, it seems that they have their mojo back, and with the Flex they are delivering a phone like no other. The clue is in the name, with the company releasing a phone with a six inch screen which does actually significantly curve, to fit the face, while talking. The specs look as good as you might expect, but none of that really matters to anyone right now. The important thing is the design. Will it work? Will it be reliable? And will it be as impressive as we all imagine it could be? Again only time will tell, but this time next year the answer will already be old news!
All of these new devices are going to cost a pretty penny, so getting adequate insurance is key. Search for Protect Your Bubble smartphone insurance to get some information about how much one of these devices is likely to cost you in terms of insurance.
Other Articles