The Dark Knight Rises™ Slots is a thrilling 5-Reel, 243-Ways-to-Win Video Game with jaw dropping Scatters and Wilds. This video slot is based on Microgaming's first superhero video film – The Dark Knight, introduced back in 2012. The slot action provides massive features; a Symbol Scramble that jostles symbols on the screen to create winning combinations with sensational Split Wilds.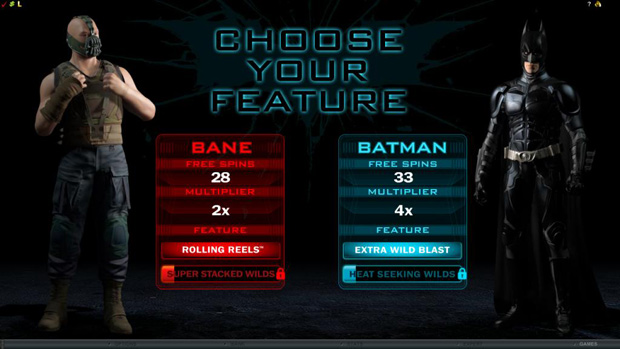 A Great New Mobile Game
Players experience movie thrills along with Batman, the Joker, and several other classic characters. Exciting bonuses are coupled with several exciting movie scenes. Batman continues to lead players on shadowy and audacious adventures paralleling segments from the blockbuster movie. Caught up in escalating action and captivating confrontations, the Dark Knight Rises is one of the new mobile games that combine convincing auditory effects designed to enhance play and produce power-punching twists at every turn.
The most exciting scene-stealer involves the virtual fight progression that incorporates the Free-Spins Accumulator. This revolutionary feature randomly occurs in the basic game where Batman and Bane battle against one another, ultimately resulting in Free Spins and exciting Multipliers. As entries are made into this new feature, players accumulate chances to win. The video is an ideal mix of lifelike photographic imagery and adrenaline pumping wins. A free-play option is an added bonus!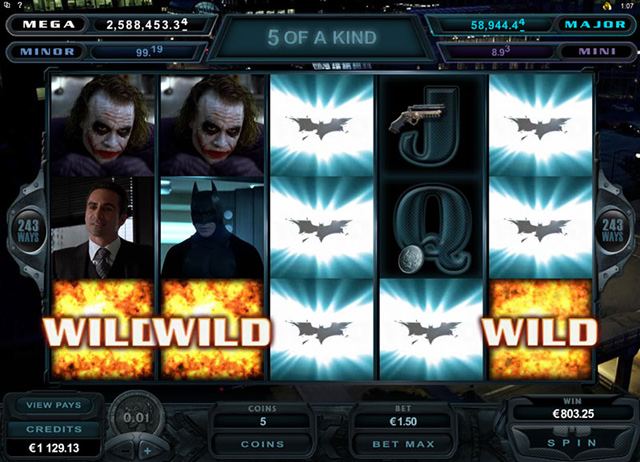 Technical Specs
The Dark Knight Rises centers on one of the most famous characters on the silver screen. Superb visuals combine the five-reel slot with awesome pay-lines, wild scatter symbols, free spins, and some of the greatest wins around. Cash bonus, free spins, prizes, and bonus features provide hundreds of winning combinations and thrilling adventures in this action-packed video slot!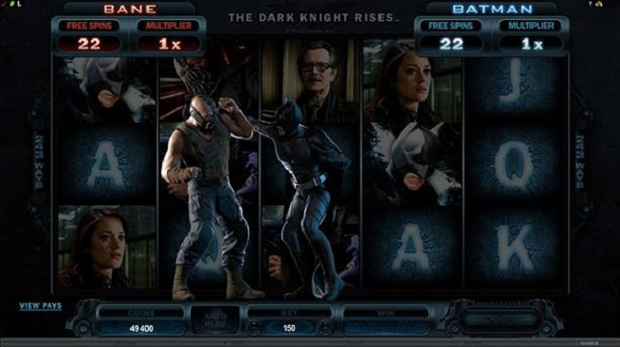 The Dark Knight Slot Machine
The Dark Knight Rises™ Slots has countless automatic play features with betting panels that accelerate game options. The pay-line makes this a wallet friendly betting game that allows for potential wins without destroying your bank account. Realistic symbols and Black Knight Wilds trigger the free-spins. Lock into position to increase your winning potential. Bonuses ignite player anticipation while accelerating the heart rate. This impressive Dark Knight Slot Game makes for great winning combinations. Character rewards provide cool prizes and superior features.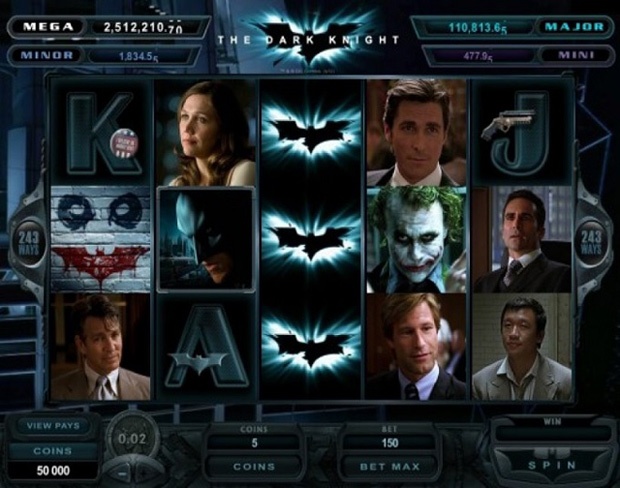 Playing Dark Knight Rises
During free spin play, characters appear at random, increasing the multipliers and allowing opportunities for more free-spins. Individual scatters trigger free-spins with double multipliers. This hugely popular slot creates an adrenaline rush comparable to the other Dark Knight Slot Video games, triggering random bonuses on the wheel. All of the superior game versions bring you along on Dark Knight Escapades so that you can participate in action packed bends and curves while experiencing incredible opportunities to win big!
Other Articles