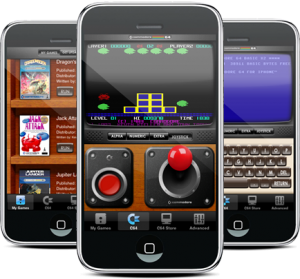 The much publicized Commodore C64 emulator from Manomio is finally coming back to the App Store. The app has had a rocky history with an initial rejection, public out cry, App Store approval and was then pulled from the App Store by Apple due to inadvertent violations of the SDK terms.
Well, C64 is "almost back" with details posted in FAQ forum by Manomio. According to the developers, the 1.1 version will include the following:
Compliance with the Apple SDK agreement
Up to 30% improvement in performance – better battery life and smoother game play
3 additional games, International Soccer, International Basketball and International Tennis
Minor UI improvements
Manomio also reveals that they will be supporting in-app purchases in the 1.2 version which is expected in December. This will allow you to buy additional games in-app rather than the rather cumbersome installation process they had previously used. Existing customers of C64 will get the 1.1 update for free as if nothing had happened.
Looking towards the future, Manomio is considering support for external controls, network play, social gaming and more. Read our hands on with C64 for more details on the App.
Other Articles