As Specialist in accessories for PC's and games consoles Thrustmaster have created products for all types of users, it doesn't matter if you're a casual or hardcore gaming enthusiast Thrustmaster have you covered. For nearly twenty years Thrustmaster have developed accessories to further enrich your gaming experience with their amazing racing wheels being the stand out product. But which Thrustmaster racing wheels stands out the most? Let's find out!
First up is the incredible Thrustmaster T500 RS Racing Wheel with Pedals, which looks and feels like a realistic simulator with its Gran Turismo wheel with brushed metal central spokes and authentic sequential gearshift levers giving that real life look. Furthermore due to the new H.E.A.R.T HallEffect AccuRate Technology and Force Feedback mechanism the T500 RS is super-powerful, quick responding and an ultra-precise racing wheel that's precision that won't decrease over time. Alongside this the T500 RS has a rigid motorized stopper and an angle of rotation adjustable of up to 1080°, which equates to 3 full turns and adds to the realism of the wheel. In terms of price it is a tad on the expensive side at £399, but you are paying for that realistic, fantastically designed finish.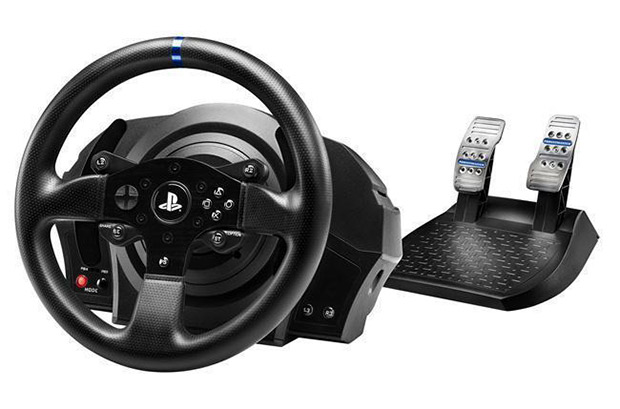 Next up is the Thrustmaster TX Racing Wheel Ferrari F458 Italia Edition, which is the first mass-market Force Feedback wheel featuring a brushless industrial motor. What sets the TX Racing Wheel apart from other wheel's is the amazing looking Ferrari finish, but alongside this it features a detachable wheel and metal pedal set which shouldn't be overlooked either. Like the T500 RS the TX Racing Wheel has an ultra-smooth Force Feedback and a super-responsive, fluid, realistic feel with no latency. Again the TX Racing Wheel features the H.E.A.R.T HallEffect AccuRate Technology, which is a contactless magnetic sensor that leads to precision that won't decrease over time. Also with an adjustable angle of rotation from 270° to 900 for fluid steering and Ferrari style pedals the TX racing will be an absolute joy to use, and with it now around £299 is definitely a great piece of kit worth having.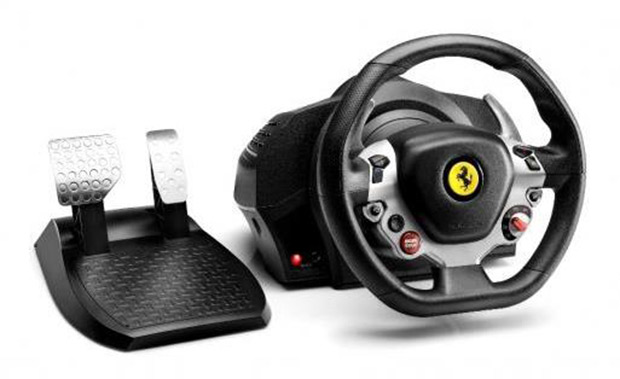 The final racing wheel that I'm going to talk about is much acclaimed and popular T300 RS Racing Wheel, with its detachable GT racing style wheel and 1080° Force Feedback base featuring an industrial-class brushless motor. The T300 RS looks like an amazing bit of kit and through its new dual-belt, friction-free optimized mechanism it allows for smooth and seamless efforts, and a super silent system. Furthermore like the T500 RS the T300 has the H.E.A.R.T HallEffect AccuRate Technology and Force Feedback mechanism that leads to an ultra-responsive and realistic effects with no loss of precision. In terms of finish the T300 has a reinforced rubber texture on the wheel's entire circumference for great grip, and a racing wheel that features brushed metal central spokes and 2 large fixed paddle shifters. When it comes to price it's very competitive with a price tag of around £250, which when you think about it is very reasonable when you consider its spec and you compare it with rival wheels, it's definitely a winner with me.
Make sure you get the best deal on your gaming equipment and head over to Box.co.uk who have a wide range of gaming laptops, PC's, keyboards, headsets, racing wheels and much more at competitive prices.
Other Articles