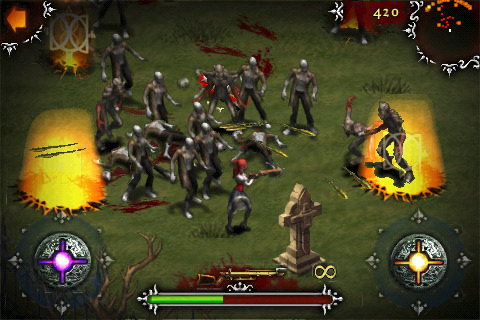 Namco's Garters & Ghouls made its way into the App Store last night and is the latest twin stick shooter to arrive on the scene. You play as the freshly reanimated Marie Dupois fighting against an evil force known as "Thrum" who has caused the dead to rise under its control. It's your task to close the portals of the underworld that spawn the various zombies, werewolves, and demons that are rampaging across the countryside.
The game plays a lot like iDracula and other similar games, with two virtual joysticks that control your movement and shooting. Along the way you come across different weapons and powerups, and throughout the land are shops run by the "Steam Queens" where you can buy upgrades for your character's health, movement, weapon damage, and other things.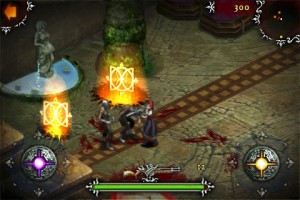 The main content difference between Garters & Ghouls and similar iPhone games is that the gameplay is structured around 25 distinct and large levels and framed in a slowly revealing storyline.
The task for each level, however, remains the same throughout: you must destroy the enemy-spawing portals strewn across the map. Still, going into a level with a specific number of portals to destroy gave me a greater sense of purpose than other pure survival shooters. There is some very light planning involved in avoiding getting caught in the crossfire between demon-spawing portals, and there are a variety of enemies which do get more difficult as well as a number of weapon upgrades.
The game's difficulty, however, ramps up slowly, so it can feel like you are just grinding your way through the game. And if you listened to our last podcast, you would have heard that Eli Hodapp's issue with the game was the repetitive and lengthy nature of the levels. While I don't believe its any more repetitive than many of the existing survival shooters we've played before, I had also hoped the levels would provide more variety in gameplay.
Meanwhile, a number of other factors keeps the game squarely in the "good, but not great" category. The controls and animations are adequate, though not especially smooth, and the targeting of the enemies and portals requires you hitting just the right spot. This gives the enemies a 2 dimensional feel. The 1.0 version also suffers from some occasional crashes, though if this occurs only your in-level progress is lost and you can resume at the beginning of the level.
Other Articles