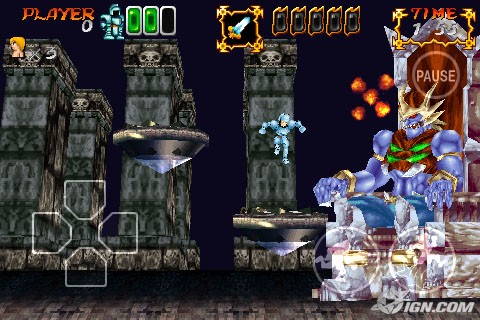 So, Ghosts 'n Goblins it is.
Exactly which historic name Capcom would finally adopt for the iPhone version of their upcoming sidescroller has finally been revealed. IGN has scored some of the first screenshots for the iPhone version of Ghosts 'n Goblins.
We had first heard of the port back in September at the Tokyo Game Show 2009. Capcom a then unnamed game that used 3D models in a 2D side scrolling game. In that respect, it shares many characteristics with the PSP's Ultimate Ghosts 'n Goblins which was also rendered in 3D.
The iPhone version of the game appears to use a 4-direction virtual pad along with 2 on screen buttons.
No other details were revealed about the game, though we hope to see it soon. Gallery of images from IGN.
Update: More info about the game which is officially called Ghosts 'n Goblins: Gold Knights:
Return to the Ghoul Realm as the legendary Arthur or impetuous Lancelot in Ghosts'N Goblins™: Gold Knights for the iPhone and iPod touch. Explore six stages of peril as you attempt to recover the missing maidens and learn the secret of the demons' return.

Battle with sword, lance, arrow and axe against swarms of demons, monsters and undead minions in one of the most exciting platformers on iPhone.

Key features

– Brilliant 3D graphics and classic platform action!
– For the first time, play as two different heroes each with a unique play style.
– Master six different weapons per character and power up each weapon with magic.
– Destroy treasure chests to uncover weapons and more powerful suits of armor.
– Further customize your Ghosts 'N Goblins experience with DLC.
Other Articles