If you grew up in simpler times you might find yourself reminiscing about the golden years, when cameras used film, hair was teased, jeans were acid-washed and portable sounds came from a Walkman. If you love the idea of revisiting your youth, but can't bear the thought of parting with your iPhone or iPad, add a touch of nostalgia into your day with these fun and functional retro-inspired iOS apps.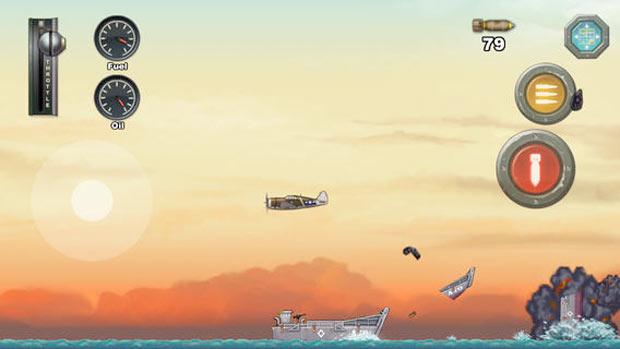 Wings of Rage – WW2
By Rainer Basso
Offering explosive, retro-inspired WWII air combat based on the classic 80's arcade classic Wings Of Fury, Wings of Rage is a fun and challenging reimagining, featuring responsive classic side-scrolling gameplay. Take to the skies in a classic F6F Hellcat and wreak havoc on enemy forces with a selection of powerful weaponry, reminiscent of the Apple II original. Easy to grasp, but hard to master, Wings of Rage offers new players, as well as those who enjoyed the original Wings of Fury, hours of fun navigating through the chaos of air combat.
Wings of Rage is brand new to the iTunes store, and is available for US$1.99.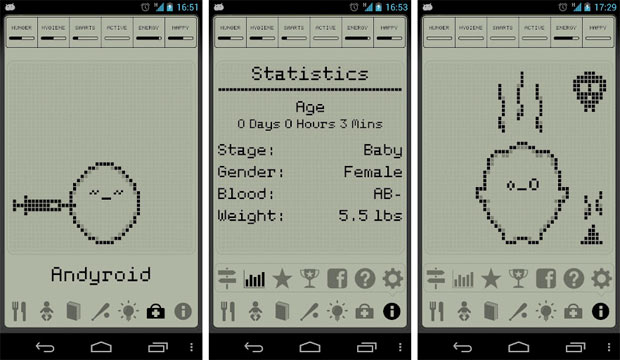 Hatchi
By Portable Pixels
Anyone who grew up in the 90s will love this Tamagotchi-inspired game, which take virtual pet care to the next level. Hatchi offers an authentic retro-feel with pixelated graphics, and offers hours of fun as you feed, clean and play with your pet, who responds to your care as they grow.
Hatchi has a 4.5-star user rating and costs $US0.99 via iTunes.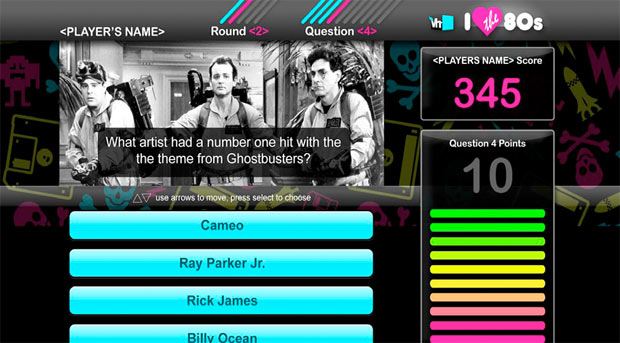 VH1's I Love the 80s Trivia
By VH1
Test your knowledge and play against friends worldwide with VH1's bodacious I Love the 80s trivia game, featuring awesome 80s photos and multiple choice, matching and timeline questions. Reign supreme as the king or queen of 80s trivia, and take a walk down memory lane to reminiscence about the best (and worst!) parts of the decade everyone loves to hate.
I Love the 80s Trivia has a 2.5-star user rating and is free via iTunes.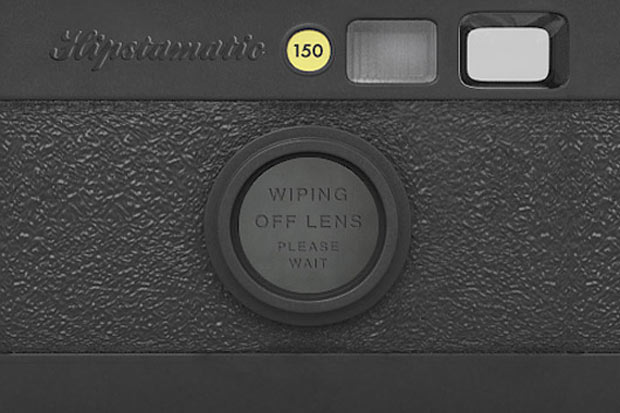 Hipstamatic
By Hipstamatic, LLC
With Hipstamatic, digital photography never looked so analog. Featuring a vontage toy camera-style interface, this app is great for capturing lomography-style shots, and comes preloaded with four lens types, three kinds of film, and three flashes that can all be swapped for hundreds of different effects. Share your retro-style snaps instantly on Facebook, Twitter, Instagram, Flickr, and Tumblr
, and order real analog prints delivered to your door, direct from the app.
Hipstamatic has a 4-star user rating and costs US$1.99 via iTunes.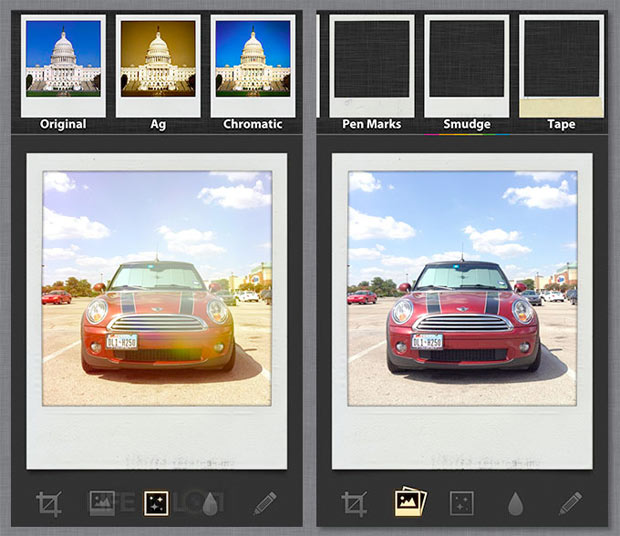 ShakeItPhoto
By Banana Camera Co.
Whether you loved the original Polaroid camera or you missed it the first time around, ShakeItPhoto offers a fun Polaroid experience, allowing you to watch your image develop, with the option of being able to shake your device to make it develop faster. The app's 'Perfect Processing Technology' makes your Polaroid photos look just like the real thin, and authentic sound and animation brings back memories of shooting Polaroid snaps which you can then email or share via Facebook.
ShakeItPhoto has a 4.5-star user rating and costs US$1.99 via iTunes.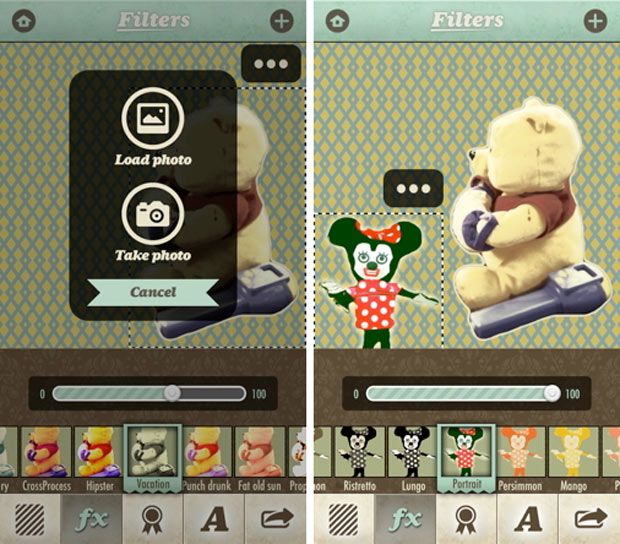 Retromatic 2.0
By Peta Vision
Turn your original photos into cool retro works of art with Retromatic, which offers tons of fun retro-themed filters, backdrops, stamps and fonts. Take your photos back in time, and then share them via Instagram, Facebook, Twitter, and Flickr.
Retromatic has a 4.5-star user rating and costs US$1.99 via iTunes.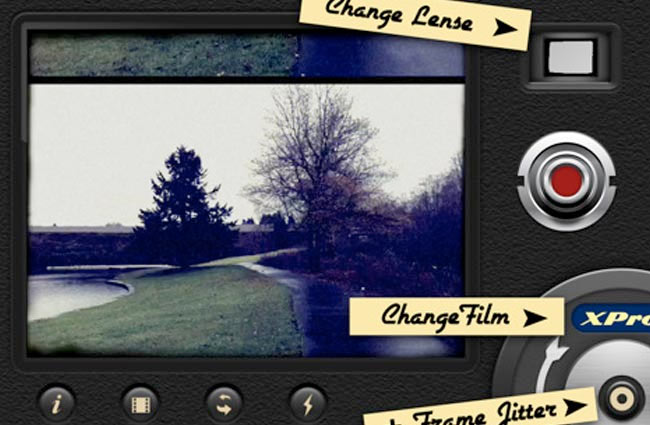 8mm Vintage Camera
By Nexvio Inc.
Fan of film? 8mm Vintage Camera takes you back in time, allowing you to capture the beauty and magic of old-school vintage movies. Mix and match films and lenses to recreate the atmosphere of bygone eras, and apply dust and scratches, retro colors, flickering, light leaks, frame jitters instantly with a single swipe. 8mm features a live-view of effects, and authentic projector sound and post-processing to put you in complete control of your retro-styled cinematography experience. Save and email your films, email, or share via YouTube and Facebook.
8mm Vintage Camera has a 4.5-star user rating and costs US$1.99 via iTunes.
Pocketbooth
By Project Box
Transform your Apple device into a 1950s-era vintage photobooth that fits in your pocket. Featuring five photo effects, two paper types and two border styles, Pocketbooth replicates the intimacy, spontaneity, and hilarity of a traditional photobooth, and takes a series of photos just seconds apart to create stunning photo strips of your memorable moments. Post your photostrips to Facebook and Twitter, send them by email, or have them professionally printed and mailed to friends and loved ones anywhere in the world direct from the app.
Pocketbooth has a 4.5-star user rating and costs US$0.99 via iTunes.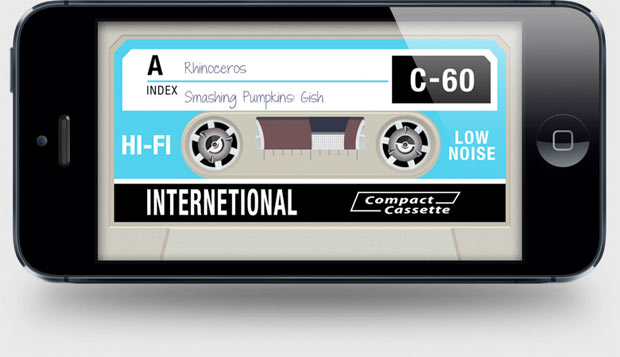 AirCassette
By Majasalmi Ltd
Remember your mix-tape days with AirCassette – a retro-themed music player that taps in to your music library and allows you to queue your favourite songs as digital mixtapes. Featuring a range of realistic cassette graphics, with tape that spins as the music plays, you can rewind and fast-forward as you play for the total experience, and see the song name, artist and album information displayed on your cassette tape.
AirCassette has a 4-star user rating and costs US$1.99 via iTunes.
Other Articles