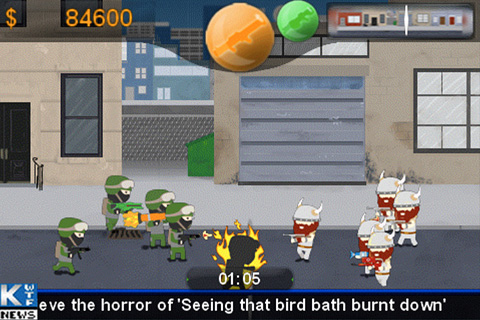 In these tumultuous times full of war and politics, war profiteering would probably not be an outlandish concept. That's what 5 Minute Games' iPhone app, Balance of Power, is all about. You're an arms dealer distributing weapons to both sides of a war, so you're benefiting as long as the war is going; the longer it lasts, the more money you'll make.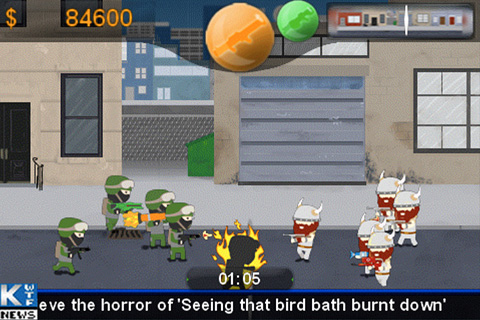 The incredibly long and detailed tutorials will tell you all you need to know; suffice to say that you need to keep both sides fighting for as long as possible. Swipe your finger on a side to provide them with weapons, which range from flame throwers to bubble guns. Keep your eye on the hilarious headlines, because they can sway the battle. Choose between three different modes–Normal, Hardcore, and Escalation, each more difficult than the last–and three different teams, and watch as the landscape and the armies get torn up. Turn the iPhone vertical to pause the game.
The graphics of Balance of Power are very South Park-esque, which goes along quite well with the morally dubious nature of this game. Gameplay is fast-paced and smooth, but remember to keep the frontlines within the green area–it's easy to tip the scale too far and cause one side to win the war. The background music is exciting, but the voiceovers steal the show, as they are in character and very well-done; reading the news ticker is always good for a laugh. The concept for this game app is innovative, and hopefully added content in the future will make it even better; as it is, the game is not quite as challenging as others…going through the tutorials would probably take up more of your time than playing a couple of levels.
Here is a video demo of the Balance of Power app on the iPhone:
Other Articles