Sometimes, simple is best. Take away the quests, the story, and just add some jumping. Literally. That's Doodle Jump's main goal; to jump as high as you possible can. There's nothing fancy about it; you get a cute little doodle jumper and you jump as high as you can go.
Well, it's not that easy. The game randomizes platforms, so as you start it's easy to get yourself up there but the further you go, the more spaced out they are. Or they might collapse when you jump on them, or move back and forth, making it harder to aim. Your jumper is always in jumping motion; it takes a tilt of your smart phone to move him back and forth. The more extreme the tilt, the faster he'll travel in that direction. The sensitivity can be changed, which is a good thing, as it really is all about how you work with your phone's accelerometer.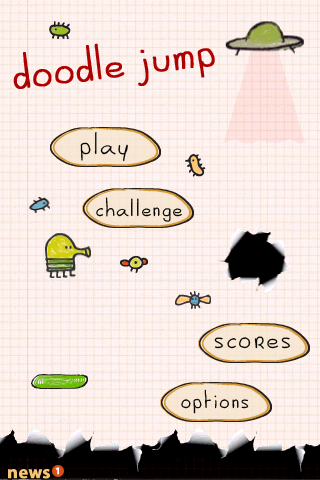 You'll also run into enemies along the way, which emit a sound that you can hear before they appear on screen. The downside is if you choose to play with sound off, you have no idea they are coming up. It's very easy to run into one with no warning, making it hard to play this game in a public place where you might not want to disturb others.
Another downside is particular to the Android version; you don't have the option for upgrades like the iPhone version does, making the game a lot more basic and overall much harder. It isn't certain whether they will implement those options for Android users in the future, but it would be nice.
Your goal is only to beat your high score; there is literally no end game. This can make for an engrossing game, so it's best not to start if you might have to abruptly finish!
Related articles
Other Articles