As a gamer, have you ever wondered what it would be like to develop your own game? Game Dev Story might not be a severely accurate simulation, but its fun take on creating games and running a dev company makes it a great mobile game for any fan of the industry.
Game Dev Story puts you in the position of running a development office; you start in a small office and get to hire a handful of employees, ranging from artists to engineers. The employees you start with have limited experience, but the more you play, the more you can train and promote them to hire levels. You also unlock better employees in your hiring pool and have to make decisions on whom to fire and who to hire. It's a simple mechanic, but it's a fun part of starting off the game on the right foot.
Once you get a team assembled, you can start working on a game. If you know anything about the history of consoles (or lived it) you'll find the humor in their fictional console names, playing on the real ones that exist. The Game Kid instead of the Gameboy, Play Gear instead of Game Gear, and NeonGeon instead of Neo Geo are a couple of examples of their cute plays on titles. As you make your money, you can buy licenses to develop for bigger and better systems, though a license isn't cheap. Money is definitely the challenge in this game and it takes some getting used to, to realize what the best strategies are.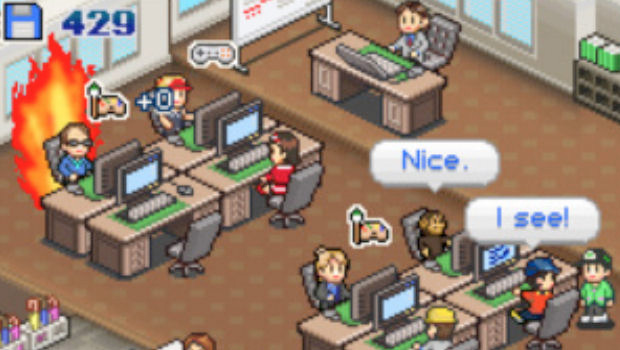 You also have options to work on side projects to get more money, but that take away time and effort from creating and releasing a new game. It's all about balancing your releases, getting good reviews and winning awards in the yearly award ceremony.
To create a game, you must combine a larger genre (RPG, first person shooter, etc) with a type (horror, fantasy, virtual pet, to name a few) and hope that your direction for the game works as well as the combination. The biggest issue found is that sometimes, combinations that make sense get low marks and others that seem a little strange get praised. Mostly they make sense, but there are some odd moments where it leaves you scratching your head.
Beyond that, you want to take time to advertise your game and also spend money to get a booth at "GameDex", their faux gaming convention. Both bring in more fans, which equals more sales. With all of these balances, the game proves challenging, but fun. It might not have the best replay value after you complete a company, but you'll definitely get multiple hours of play.
Related articles
Other Articles