Thanks to the App Store's platformer collection I discovered the new He-Man game by Mattel and Chillingo. This tongue in cheek cartoon adventure definitely knows its market, as it does not pretend to be a new reboot game to relaunch the near naked blonde barbarian. Instead it happily makes jokes about its retro kitsch status and doesn't take itself too seriously.
The graphics are stunning and provide the player with a vibrant and colorful experience using a cast of well drawn characters and backdrops. The animation is solid, if a little 'flash like' but the maps, assets, shop, extras and awards are all beautifully drawn and match the rose tinted expectations you might have of the He-Man of yesteryear.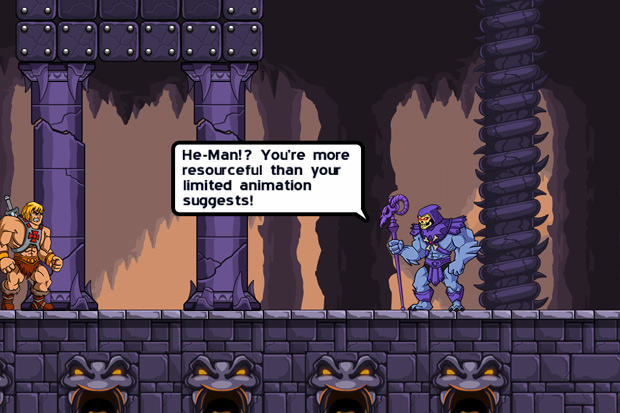 The characters include all the classics, battle-cat, man at arms, Teela and Orko as well as all the classic enemies you might expect such as Beastman, Lockjaw and the mighty Skeletor. A recent update has also added She-Ra as a playable character right from the outset.
Sounds and music all fit perfectly and they are plenty of swooshes and tings to reinforce the 80's vibe whilst the music does seem like it might be based on the original tunes from the show (though I can't remember more than the shows theme song).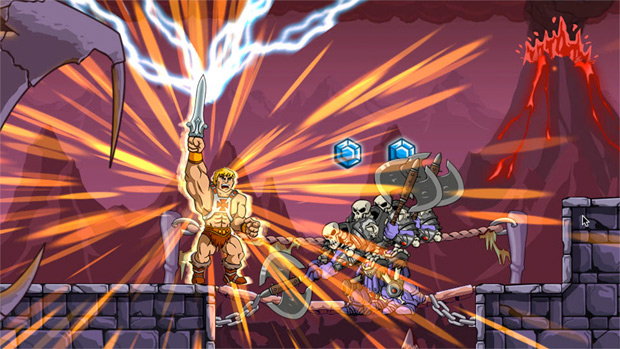 The controls try so hard to be intuitive and they make a pretty decent job of it but it's not perfect. The game has done away with on screen d-pad and buttons and instead adopted more of a gesture model. In theory this sounds great; moving your finger left and right on the left hand side of the screen moves your character and various taps on the right hand side attacks. Swipes upward on the right hand side also jumps your character. As the game progresses and you buy more skills and attacks, other gestures are added to your arsenal in order to perform them. Special powers are controlled by buttons in the top right and you will end up looking forward to the times you get to power up to the sound of 'I Have The POWER!' And you be forgiven if you hold your phone aloft when he says it.
There are plenty of levels to keep any gamer busy but the levels aren't hugely complex (think Early Mario Brothers) and what it lacks in level difficulty it makes up for in hack and slash as are a plethora of enemies of your to cut down and collect those valuable gems. This crystalline currency can then be used in the store to buy an assortment of skills, attacks, weapons and characters. As you would expect, your gem count can be easily boosted with the range of in-app purchases that are all to frequent in mobile games nowadays.
Overall, this is a fun game that not only has bags of retro charm but also innovates in terms of controls. The graphics and sound are fantastic whereas the animation and control accuracy is less than perfect. The free to play model means you have no excuse not to download this nostalgic gem and re-live those innocent days playing with semi naked muscle bound men.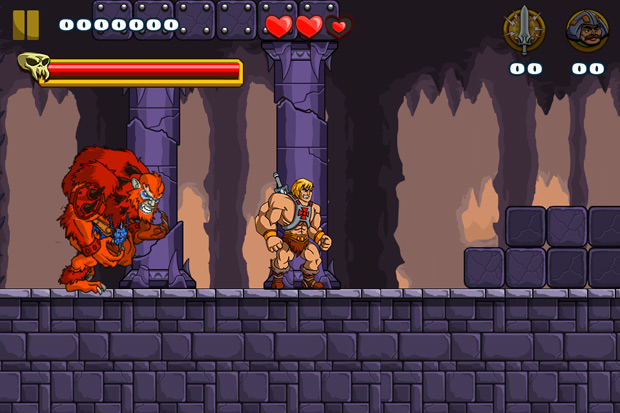 Related articles
Other Articles